Podcasts: Top Tips for VCE History Students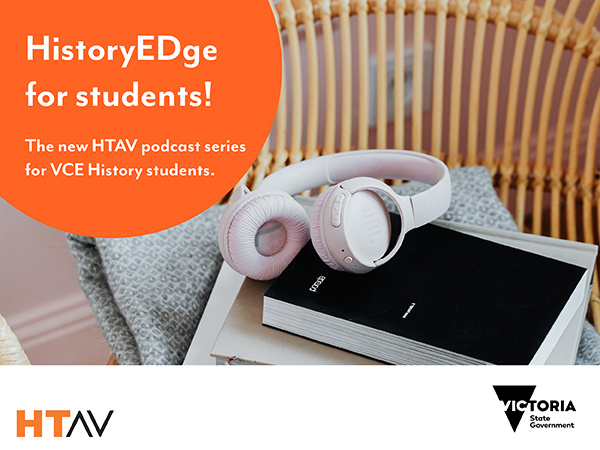 ​
For students, by teachers

Just in time for step-up, the latest from HTAV's HistoryEDge podcast series offers top tips for doing well in VCE History. Host Lauren Trotter interviews six teachers whose students achieve some of the highest median VCE History scores in the state.
Episode 1: Ancient History (Egypt & Rome) – Isabella Webster (Loreto Mandeville Hall)
Episode 2: Ancient History (Greece & Rome) – Lindsay Brunsdon (Genazzano FCJ College)
Episode 3: Revolutions (Russia and China) – Paul Neef (Haileybury College)
Episode 4: Revolutions (France and Russia) – Chris Hart (Yarra Valley Grammar)
Episode 5: Australian History – Jess Chamoff (Kilvington Grammar School)
Episode 6: Revolutions (America & Russia) – Raquel Fenby (Suzanne Cory High School)

These podcasts for students have been funded by the Department of Education's Victorian Challenge and Enrichment Series. In order for HTAV to comply with the reporting requirements of the Series, your students will be asked for some demographic information on the way to accessing the podcasts.

Provide your students with the low-down on getting top marks. Send them this link today: www.historyed.net.au/vcepodcast.

The HistoryEDge teacher podcasts can be found here.

The History EDge: Top Tips for VCE History Students podcast series was supported by the Victorian Government.
24 Dec 22

8.45am - 5.30pm

24 Dec 22

30 Mar 23

9.00 am - 3.30 pm

30 Mar 23