Present for HTAV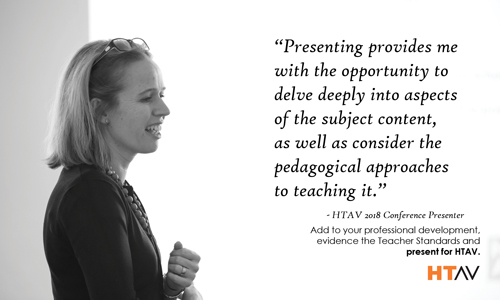 The 2022 call for workshops has now closed. We will open the call for 2023 conference workshops later this year. Please keep an eye on the HTAV website for updates.
Do you have an activity, unit of work or pedagogical idea that has worked well in your classroom? Would you like to share it with other teachers?

Presenting for HTAV is a rewarding experience and adds to a presenter's own professional learning. Presenters also value the enriching contributions they make to the lives of their colleagues.
Presenting opens the door to various networking opportunities and presenters gain access to high-level learning with a focus on helping teachers specialise in history content, the Victorian curriculum, various teaching strategies and resource ideas.
We encourage teachers, academics, cultural organisations and community groups to participate as presenters at our conferences and events.
Please see the HTAV Professional Learning Calendar to view the types of events held through the year that you may like to consider and present in during 2023.

If you would like to submit a session/workshop idea for future events/conferences please contact Myra Karantzas, Events Manager via email m.karantzas@htav.asn.au.
11 Sep 22

10.00am – 11.00am

11 Sep 22

11 Sep 22

10.00am – 11.00am

11 Sep 22

11 Sep 22

10.00am – 11.00am

11 Sep 22