Present for HTAV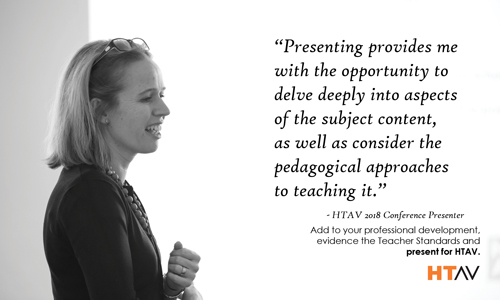 PRESENT FOR HTAV
The 2020 Call for Workshops has now closed. The 2021 Call for Workshops will open in November 2020.

Please see the HTAV Professional Learning Calendar to view the types of events held throughout the year that you may like to present in 2021.


It's Your Turn – Presenters are Just Like You!

The HTAV invites teachers, academics, cultural organisations and community groups to support your colleagues by sharing your historical knowledge and expertise in the Victorian Curriculum, teaching strategies and resource ideas.
Do you have an activity, unit of work or pedagogical idea that has worked well in your classroom? Or have you built up your historical knowledge about a particular aspect of the curriculum? Would you like to share it with other teachers?
Whether you have or have not yet presented for HTAV previously, we would be delighted to have you on board. There is so much joy and satisfaction to be gained when presenters share their expertise with colleagues and see the valued impact they have on attendees of their session. We work closely with our presenters to support their needs in any way we can. We keep presenters informed of logistical details along the way including AV requirements, room set up and the like.
Never presented in front of peers before, or feel a bit uncertain about presenting? That's ok! We can also support you with some helpful guidance on presentation skills and best practice to win over your audience whilst staying true to your personal style.

Presenting for HTAV is a rewarding experience and adds to a presenter's own professional development. Presenters also value the feedback they receive from colleagues.

All presenters are entitled to free conference registration and may attend the rest of the conference if they wish.

Here's what some presenters have to say about their experience:
'Presenting at HTAV conferences is a completely enriching experience as it allows you to share/connect with others and to critique your own practice beyond your school.'
'Presenting at HTAV events both individually and with others has made an immeasurable impact on how I view working with others and how I see myself (as a constant learner).'
'Presenting for HTAV boosted my confidence and validated my teaching practice and ideas. Due to the collegial nature of the presentation, it also allowed me to walk away with new ideas to take into the classroom.'
'Presenting at the HTAV conference encouraged me to look at our content through a different lens and reflect on how to make it most relevant to participants. The discussions in my session were great, and I made new contacts that I may work with in the future.'

If you would like to submit a session/workshop idea for future events/conferences please contact Myra Karantzas, Events Manager on 03 9417 3422 or via email m.karantzas@htav.asn.au.
6 Sep 20

10.00am – 1.30pm

6 Sep 20

6 Sep 20

10.00am – 1.30pm

6 Sep 20

6 Sep 20

10.00am – 2.50pm

6 Sep 20