National History Challenge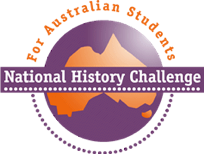 The National History Challenge is an exciting contest that encourages students to use research and inquiry based learning to discover more about the past. Students are the historians. They can investigate their community, explore their own and their family's past and explore ideas throughout history. The NHC encourages inquiry based learning, the use of primary and secondary sources and offers a variety of presentation styles that can cater to individual learning styles. It rewards students with generous cash prizes and travel opportunities.

Please visit the National History Challenge website for full competition details.

The National History Challenge is supported by the Australian Government through the Quality Outcomes Programme, administered by the Australian Government, Department of Education.
16 Nov 23

17 Nov 23

23 Feb 24

9.00am - 5.30pm

23 Feb 24