Become a member
Join the History Teachers' Association of Victoria today.

HTAV seeks to ensure that History teachers and educators have the skills, knowledge and values necessary to work in a creative, responsible and effective manner. It promotes life-long learning and respect for the discipline of History in the community.

Members will become a part of a dynamic, collegial community of History teachers and educators across Victoria, committed to meeting the challenges of the teaching and learning of History.

New or renewing members wishing to join HTAV, please select your membership category below and follow the prompts to complete your application. Those renewing their memberships can also do so here.

Members may join or renew at any time, however we recommend doing so during the October-December renewal period for an easy transition into the new year. 2022 HTAV memberships expire 31 December 2022.

And don't forget to add your print subscription to the professional reading journal, Agora!

Having trouble completing your membership application online?

Should you experience any difficulties, please complete a hard copy application form and send it to Michelle Pitcher, Membership and Events Officer, via email at membership@htav.asn.au.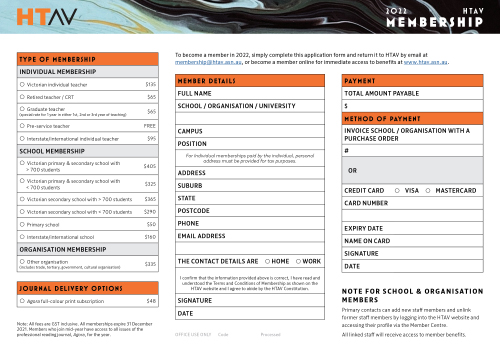 ---


Please note: It is recommended that you avoid using Internet Explorer when completing your membership application as it is not compatible with the online system.
11 Sep 22

10.00am – 11.00am

11 Sep 22

11 Sep 22

10.00am – 11.00am

11 Sep 22

11 Sep 22

10.00am – 11.00am

11 Sep 22