Our 2022 Impact
Thank you for being an essential part of your History teaching community and for supporting, in big ways and small, what we do. 'HTAV' is just a collective term for all the people who become members, come to professional learning events, booklist our textbooks, mentor new teachers, write for Agora, share resources, and so on.

This year, because of you, HTAV has been able to:
provide curated information for History teachers in twelve Member Bulletin emails, distributed to over 4,500 members
support its members with professional learning events, including two conferences, two History Teaching Masterclasses and events for new and out-of-field teachers
produce a range of free resources, including the History-related careers and subject selection information for students and parents
offer a day full of expert tips and advice for over 900 VCE students preparing for the exams
bring together 26 History teachers under the HTAV Peer Mentoring Program
publish three issues of Agora, the professional reading journal for History teachers
provide opportunities for members to extend themselves professionally by writing books and articles, presenting at events, undertaking leadership training, and coordinating History Week activities
run the Historical Fiction Competition to engage students in History
support 68 gifted and talented students across 33 government schools with the virtual History Enrichment Program.
Your support has enabled all of this – and more – to happen. Thank you.

Please download this A3 poster for display in your office, or to drop into your Principal's in-tray. Let's promote the great things we are achieving together.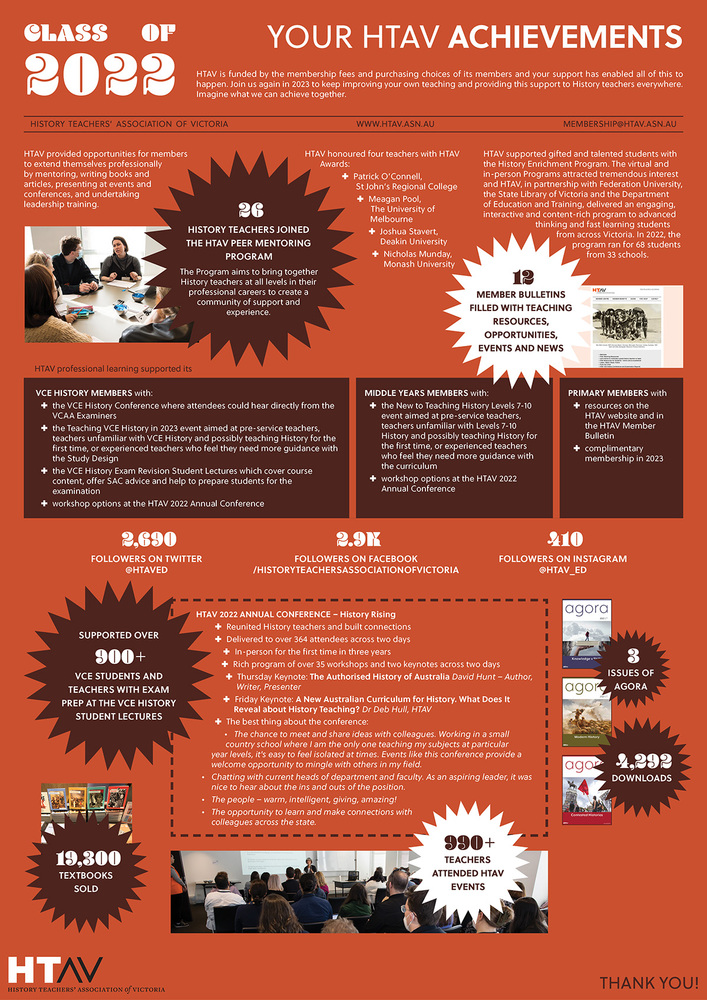 16 Nov 23

17 Nov 23

23 Feb 24

9.00am - 5.30pm

23 Feb 24