History Enrichment Program
What is the History Enrichment Program?
The History Enrichment Program (HEP) is an initiative of HTAV in partnership with Federation University. It is funded under the Strategic Partnership Program by the Department of Education and Training. HEP provides a resource for teachers and parents who seek enriched learning opportunities for students who demonstrate sound ability and passion in their history studies.

This program is best suited for students who are:
independent
​creative thinkers
fast learners
think and perform above the level of their peers
demonstrate high potential
recognised as gifted and talented
high achievers and/or could benefit from accelerated learning.
The program is aimed at students who are significantly different in their thinking from most other students their age and brings fast and advanced learners together in small groups who share a passion for history. Students will work on a variety of tasks developed for their advanced needs and capabilities.

Culminating in the development and presentation of their chosen passion project, students will begin to work through issues such as dealing with their perfectionism, fear of failure, lack of risk-taking, leadership, apathy, troubled behaviour, misunderstandings and more. They will also work on and further develop their teamwork, leadership, organisational skills and presentation skills.
​Why do we need gifted and talented student programs?
In June 2012, a parliamentary inquiry into gifted and talented students found that gifted and talented children and young people often differ from their age-peers not only in terms of their abilities, but in their preferred learning style as well. They have particular learning needs that require specific strategies and approaches that include, but are not limited to:
daily challenge in their specific areas of ability or interest
learning experiences that reflect a range of learning styles
opportunities to socialise and learn with peers of like-minded ability as well as work independently on areas of interest
connections to people and opportunities beyond the early childhood setting or school that support their particular passions and talents while connecting to the curriculum (Rogers, 2007).
Gifted and talented children and young people have particular learning requirements. Responding to these requirements is not an optional extra – it is a key responsibility of early childhood settings, schools and the Department. For the full document click here.

What are the benefits for participating schools?
Opportunity for schools to align with the recommendations of the 2012 Parliamentary Inquiry into Gifted and Talented Students.
Forging a working relationship with Federation University and the History Teachers' Association of Victoria.
Access to the HTAV gifted and talented resource website.
Certificate for participating schools and students.

What are the benefits for participating students?
Opportunity for students to work with like-minded peers in a challenging and intellectually stimulating environment.
Helps students develop their emotional, academic, intellectual and social growth skills.
Helps build confidence, curiosity and academic enjoyment.
Represent their school in a professional association sponsored conference.
Skills are transferrable.


How are students selected?
Students from participating regional areas will to be nominated by their teachers/principals. 'The Revised Profiles of the Gifted and Talented' by Maureen Niehart and George Betts (2010) will be used as a guide in the selection process. Please click here to view further details.

Interested students will also be asked to complete a nomination form outlining their interest in history and analysing their own learning characteristics.

Please note that we are also looking for students who have a genuine passion for and demonstrated ability in history.

Students from Years 3-10 will be eligible to apply.

​HEP Highlights
Click on the image below to view a short video capturing some of the highlights from the Ballarat Program 2015​.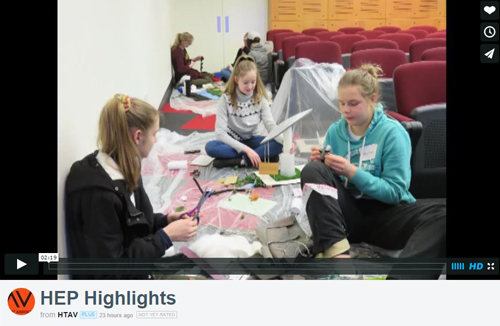 ---




The History Teachers' Association of Victoria acknowledges the support of the Department of Education and Training through the Strategic Partnerships Program.
24 Dec 22

8.45am - 5.30pm

24 Dec 22

30 Mar 23

9.00 am - 3.30 pm

30 Mar 23