Advertising
HTAV provides many opportunities for organisations to promote their products, events and services to history educators. With its huge network in a range of sectors, HTAV is ideally placed to make connections between your organisation and history teachers.
The main ways to advertise with HTAV are in the peer-reviewed journal Agora, and at conferences/events. To view all the conferences and the venues please click here.

Exhibiting at HTAV Events
Exhibiting at HTAV events provides an excellent opportunity for organisations to promote their publications and services to teachers of History.

What Can HTAV Offer Its Partners?
Increase in brand recognition.
Interaction with History teachers.
Assistance in launching new products and services.
Exhibition spaces at HTAV events are booked out by advertisers well in advance, often months before the actual event. Don't procrastinate and book your exhibition space now.

Please view the following video for information about the promotional opportunities available to your organisation at HTAV events.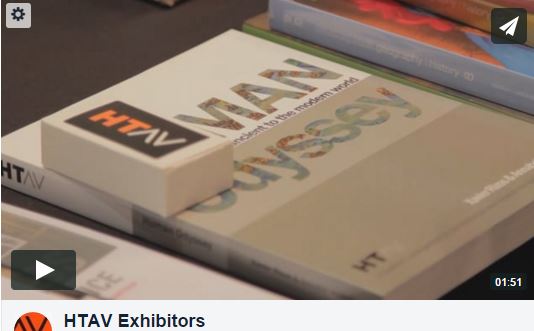 Please consider the excellent opportunities to showcase your organisation and network with the history community at the HTAV Annual Conference – the main event on the HTAV calendar. Highlights from the 2016 Annual Conference: History Makers, captured via our social media links, are provided below:
HTAV Annual Conference Program 2017 Advertising Opportunities.

We are now taking bookings for advertising space in our 2017 HTAV Annual Conference program. The HTAV Annual Conference: Critical and Creative History – 20 and 21 July 2017, Caulfield Racecourse.
The HTAV Annual Conference 2017 program booklet will be mailed to schools and accessed online. The HTAV is offering a limited number of organisations the opportunity to sponsor the program booklet by purchasing advertising space. As well as a colour advertisement, sponsors will have the opportunity to include their logo and 150 words in the conference program. They will also have their organisation featured on the HTAV website. This provides an excellent opportunity for organisations to promote their publications, resources and services directly to teachers of History.

To view a sample of our Annual Conference Program and advertising opportunities, please click here to download the 2016 Annual Conference Program.
To download the 2017 application and booking form, please click on the PDF file below.

Applications for bookings close: Monday, 10 April 2017.
Artwork specifications will be emailed after booking has been received and confirmed.
10 May 17

4.00 pm–6.30 pm

10 May 17

10 May 17