Careers in Humanities
These resources highlight the key skills that students develop when they study Humanities, as well as the career pathways they can pursue.

The Careers in Humanities suite is designed to help students and parents understand how studying Humanities subjects can lead to strong employment prospects, in-demand skills, personal growth and community wellbeing.

Share these resources with your students to inspire them to continue studying the humanities, or to foster their passion for these wonderful subjects. Hand these flyers out at subject-selection events and careers fairs, post them up in Humanities classrooms and staff rooms, or share them with school and university careers counsellors.
These resources were created in partnership with the Geography Teachers' Association of Victoria, Social Education Victoria, the Victorian Association for Philosophy in Schools, the History Council of Victoria, Humanities 21, and the Professional Historians Association (Victoria & Tasmania).
All schools, universities, history teachers' associations and historical associations are welcome to provide their members with the link to the resources. Permission is not granted to host these resources on another website.
---
Why choose the Humanities? Prezi poster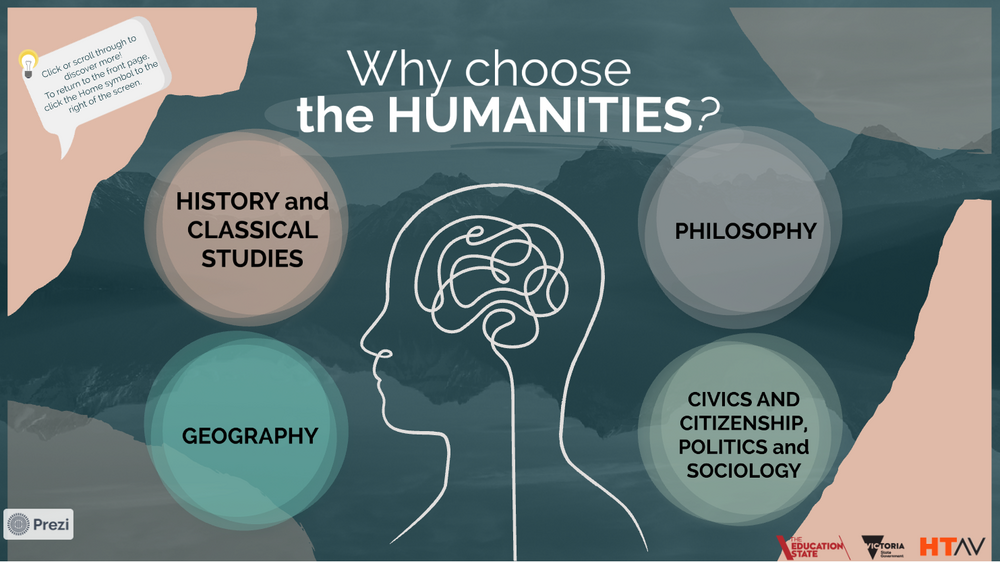 Click through this interactive Prezi poster to discover the jobs, employability skills and life skills you will gain when you study the Humanities.
Choose the Humanities flyers (for printing double-sided in A4 or A3)
---
HTAV acknowledges the support of the Victorian Government and the Department of Education and Training.

Every effort has been made to trace and acknowledge copyright as required. HTAV invites copyright owners to contact us if they believe an infringement has occurred. admin@htav.asn.au.
24 Feb 22

9.00 am - 3.30 pm

24 Feb 22

25 Feb 22

10:00 am – 3:00 pm

25 Feb 22

10 Mar 22

1.00 pm–3.40 pm

10 Mar 22