History Month
How will your school be celebrating History Month? Put it on the school calendar now!

Remind your students and your colleagues of how engaging history is. History Month in October is an opportunity to:
celebrate all that is inspiring and exciting about studying History
showcase the skills and enthusiasm of History students
encourage more students to pursue History into the senior years
engage the whole school community in conversations about history
give scope to the talent and creativity of your school's History teachers
Kick start your History Week by getting some of these great ideas into your school calendar. We've collected all kinds of ideas to help raise the profile of History at your school. Download the ideas flyer here.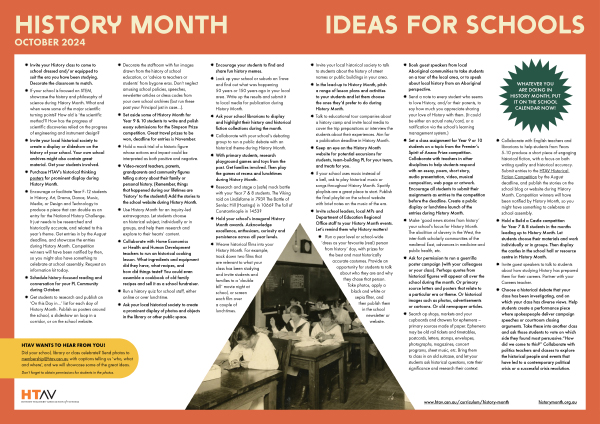 Let us know about how your school is celebrating History Month. Please send us a couple of photos to membership@htav.asn.au, with captions telling us the who, what and where, and we will showcase some of the great ideas in our next Member Bulletin and on the HTAV website.
Don't forget to obtain permissions from any students who are identifiable in the photos.
31 Dec 23

8.45am - 5.30pm

31 Dec 23

31 Jan 24

9.00 am - 3.30 pm

31 Jan 24

26 Apr 24

1.30 pm–3.50 pm

26 Apr 24