HEP Rural and Regional Online 2020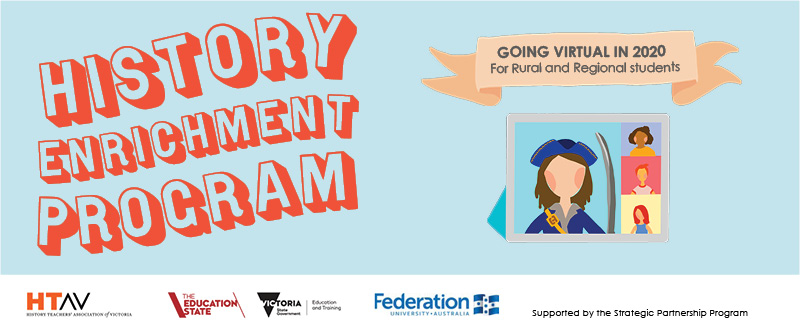 School Holiday Program for students from rural and regional Victoria

The History Teachers' Association of Victoria (HTAV) in partnership with Federation University invites your students to take part in the successful History Enrichment Program (HEP) for Gifted and Talented students, delivered online during the September school holidays.

This program is fully funded by the Victorian Department of Education's Strategic Partnership Program and is free for all participants.

This program is best suited for students who are independent, creative thinkers and students who are fast learners, think and perform above the level of their peers in some way (though they may not be the most successful academically) and demonstrate high potential.

This program will also suit students who are recognised as Gifted and Talented, high achievers and/or those who could benefit from accelerated learning.

The two-day online school holiday program in September 2020 includes:
---

There are a limited number of places available in this free program. Participants will be selected on the basis of information provided in their application. All applications must be received via email to Michelle Pitcher at m.pitcher@htav.asn.au by 5.00pm on Tuesday 1 September 2020.

Please find below links to everything you need to secure places for your students.

Primary Program (Years 3-6)
Monday 28 and Wednesday 30 September 2020, 10.00am – 1.00pm
Online, via Zoom

Secondary Program (Years 7-10)
Tuesday 29 September and Thursday 1 October 2020, 10.00am – 1.00pm
Online, via Zoom

We look forward to receiving the applications.
---


HTAV acknowledges the support of the Department of Education and Training through the Strategic Partnerships Program.
26 Feb 21

9.50 am - 3.00 pm

26 Feb 21

12 Apr 21

'2020 Hindsight'

12 Apr 21