Ballarat Secondary School Program 2015
Federation University, Ballarat
17-18 August 2015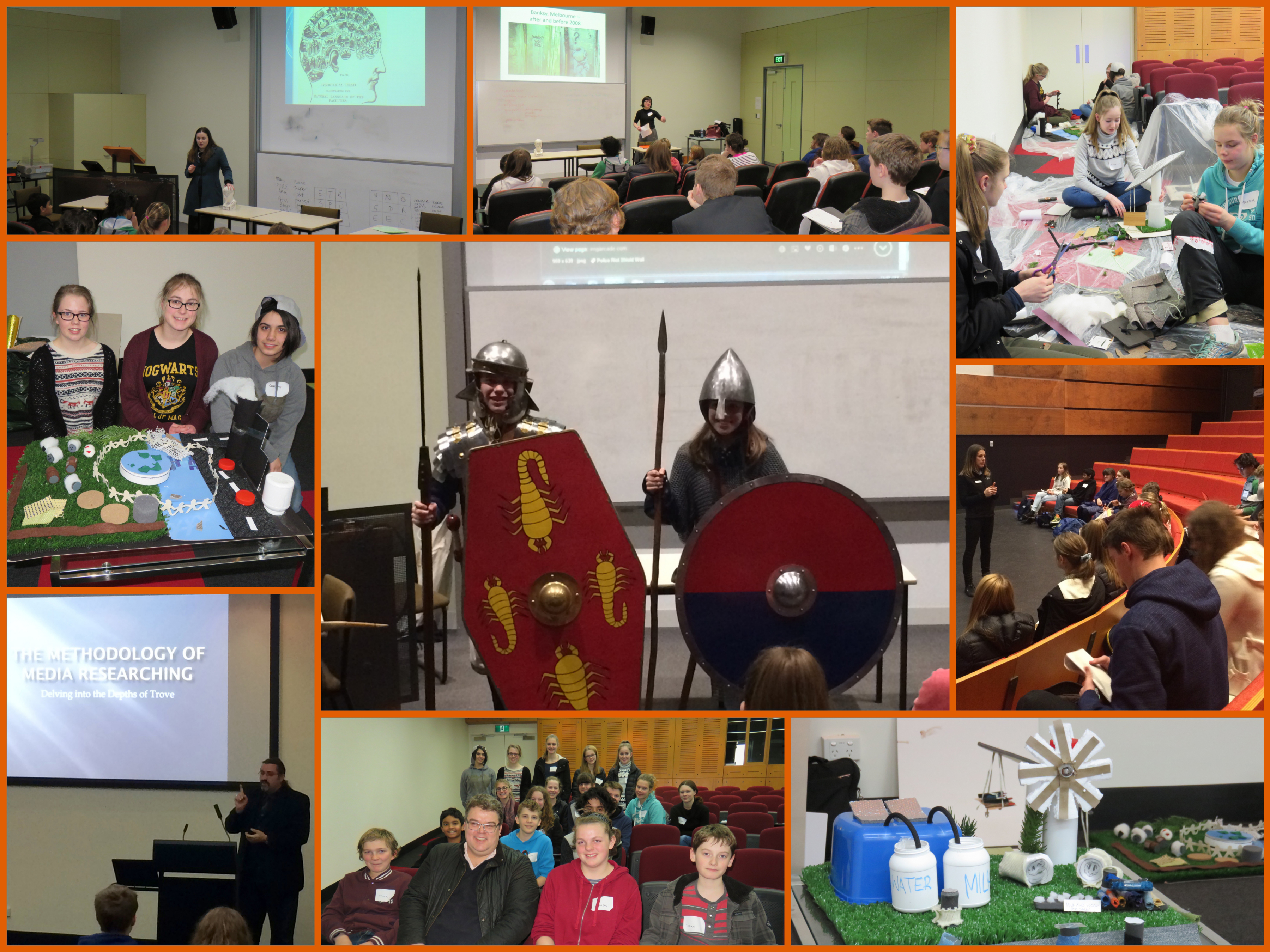 The History Enrichment Program ran its secondary school workshops on Monday and Tuesday, 17-18 August 2015 at Federation University, Ballarat. The students participated in a range of activities including conceptual model making, handling medieval artefacts, attending mini-lectures presented by academics and visiting the Museum of Modern Democracy at Eureka.

Participating students came from the following schools:
Ballarat Grammar School
Ballarat Christian College
Loreto College, Ballarat
Phoenix P-12 Community College
---

Student Perspectives

By Jake Hateley

Being involved with people that have higher level thinking made us see that there are others with this kind of knowledge.

The HEP staff were not only good teachers but they were likable and friendly, taking time to talk to us and show us that we are special kids. The teachers also shared in our passion for history, which meant we were able to connect with a common interest.

On the first day we were shown armour from different ancient people, the Romans and the Vikings. We discussed the features of each suit and the differences between the Roman and Viking armour.

We then went to M.A.D.E and learned about the Eureka stockade and saw a replica of one of the things that shaped the history of Australia, the Eureka flag. The tour of M.A.D.E. was extremely interesting, especially the history of what happened in Ballarat.

The next day we were shown a website with old newspapers full of different legends such as black cats and Tasmanian tiger sightings. Throughout Australia's history there have been many reports of mysterious creatures, but many of these sightings have not been confirmed.

As part of the program we have to create an exhibition about our favourite point in time. It allows us to choose a project that we are really interested in rather than doing a subject that the teachers set for you, which can be extremely boring. It also allows us to follow our passion and show everyone our ideas.

Overall the HEP was a fun educational experience that pushed everyone to the limit. I would like to thank the people who made this possible, my expectations were met and I was blown away at how deep this program goes. A big thank you to the teachers at this program, they were the heroes of these two days. They showed us that we are special and that we are not alone.


By Grace Fry

The History Enrichment Program (HEP) offered by the History Teachers' Association of Victoria was an opportunity for like-minded students to gather and study history in a new and stimulating environment. Presented at the SMB campus of Federation University, students came from various schools in Ballarat to participate in this intellectually challenging, innovative program. We were greeted with a small puzzle and a chance to acquaint ourselves with our fellow participants – one of the most valuable aspects of the HEP. We were also given the rare opportunity to learn in university and museum settings, and watch and take note of a multiplicity of thought-provoking lectures by teachers and PhD students. Finally, we were also invited to create a presentation for an audience bigger than our classroom – the possibility to exhibit our passions and creativity in a place where it would be closely observed and appreciated.

The student participants all shared a common trait – a passion for history. Our first lecture was about us as individuals and students; why we were chosen, what was expected of us and a chance for introspection into what made us eligible candidates. There was instantly an atmosphere of comradery in the room. Looking at each other, we were able to think 'they're like me'. The HEP program allowed us to make that connection and collaborate with people who have the same interests and way of thinking. The lecturers understood how we felt, and treated us not as struggling high-school juniors but capable individuals, able to comprehend things at a deeper level. As such, they shaped the days around us – the students – and gave us an environment to study in that we had never experienced before.
The first and second day agendas were filled with lectures, all presented in lecture theatres around Federation University. We were treated to insights into research regarding graffiti throughout time; medieval and ancient Roman weaponry and equipment – including real artefacts from the time periods; introductions to online resources such as Trove; a personal reflection on the gold rush, as well as much more. We were also taken on a guided tour of MADE (Museum of Australian Democracy at Eureka), which allowed us to explore the history of democracy and learn about Federation in an interactive and original way. All of these stimulating experiences piqued our interest and throttled our creative engines. We learned new vocabulary and expressed their meaning visually with recycled materials. That was just the start of our creative journey.

Finally, we were introduced to the Passion Project. An opportunity to show our passion and research to a wider audience, it was a stimulus that we were all lacking. We were given total freedom to pursue and study what interested us most, and boundless methods in which to present our findings. This chance to delve into something we really wanted to learn about – not limited or stunted by the curriculum – was like breaking out of a cell. We could run rampant and create something fantastic. If we had of done that in a school environment, at best a few students and teachers might appreciate our effort. However, we were promised a larger community of intellectuals and people that would appreciate our work – a real chance to present our talents to the world, instead of being confined in the classroom.

All in all, the HEP offered us an opportunity to connect and collaborate with like-minded peers, experience learning in a new environment, participate in a number of stimulating experiences, and take our talent and passion and turn it into something excellent. The HEP program is beyond doubt an extension that students like us needed, and we hope it continues to broaden horizons and open the eyes of other students also.
---

Student Feedback
'It was fulfilling and enriching.'
'The lecturers were professional and helpful.'
'It provided me with opportunities to extend my learning.'
'I found it interesting and informative. We were able to do lots of different activities and cover different topics.'
'The activities where we had to use our hands and minds were really beneficial.'
'I really enjoyed learning about ancient Roman armour.'
'I found it was fun to talk to people who were interested in the same things I was into.'
'I loved the doodling!'
'I thought the inclusion of competition information was great.'
'The best thing I've done in history since we studied dinosaurs.'
'I thought the history enrichment program was a great opportunity to gather with like-minded students and be in an environment with others who are really interested in learning about history.'
'I thought that the teachers/mentors were really kind and helpful.'
'I really enjoyed making the models and thinking of ways to look deeper into historical issues.'
'Maybe it could go on for a longer time.'
'I learned to ask and challenge everything I learn.'
'I also liked how Trove can unravel many things through research.'
'I enjoyed the trip to M.A.D.E. and learning about the Eureka Stockade.'
'I felt very engaged by the speakers.'
'All the info was cool and the speakers inspiring.'
'Best history session I have ever been to.'
'I really enjoyed the way the presenters pushed our thoughts and made us think of the 'whys'.'
'I liked the freedom we were given to choose topics and activities that interested us.'
'I really enjoyed the way we were pushed harder than in the normal classrooms.'
'I really enjoyed looking at things like Trove that set me up for later research.'
'I liked the freedom we were given as well as being treated as young adults.'
'I found the concept models challenging, but that's why I enjoyed it.'
27 Jul 23

9.00am - 5.30pm

27 Jul 23

10 Sep 23

10.00am – 11.00am

10 Sep 23

10 Sep 23

10.00am – 11.00am

10 Sep 23