Organisation Membership
"The National Trust has found HTAV to be an invaluable partner and a trusted specialist provider of expertise and a brilliant advocate for the place of history in education."
Martin Green, The National Trust of Australia (Victoria)

There are many benefits to becoming an organisation member of HTAV. Not only do organisation members stay connected with the History teaching community, you'll also receive 20% off all advertising opportunities with HTAV.
Find out more about advertising with HTAV.
Plus, you'll be directly supporting the Association that supports you.

To join, select your membership category below and follow the prompts. Current members should renew by logging into the Member Centre and visiting My Profile > My Memberships > Renew.
* Country rates apply if the address provided is greater than 50 kms from the Melbourne CBD.
All prices include GST.

Having trouble completing your membership application online?
Should you experience any difficulties, please complete a membership form and email it to Michelle Pitcher, Membership and Events Officer at membership@htav.asn.au.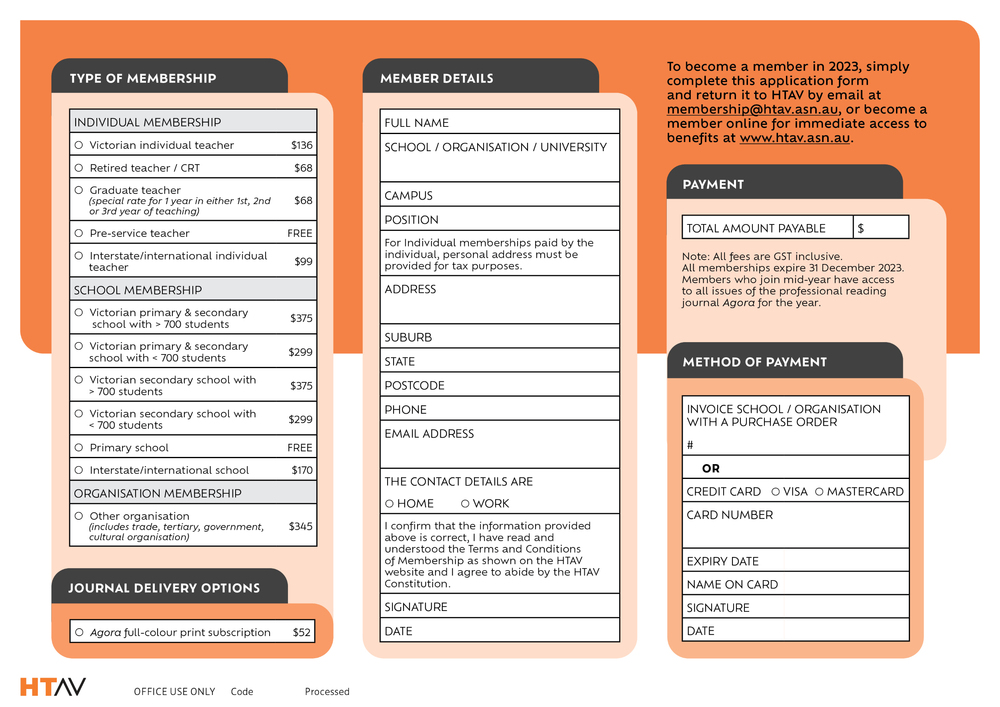 ---
Online renewals open in October of the year prior and membership begins immediately upon sign-up. Members may join or renew at any time, however we recommend doing so during the October-December renewal period for an easy transition into the new year. 2023 HTAV memberships expire 31 December 2023.
27 Jul 23

9.00am - 5.30pm

27 Jul 23

10 Sep 23

10.00am – 11.00am

10 Sep 23

10 Sep 23

10.00am – 11.00am

10 Sep 23