NOTE: Whilst every effort is made to process orders promptly, allow 7 working days for goods to be dispatched.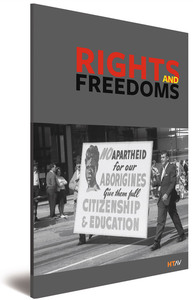 Rights and Freedoms
Publisher: HTAV
Length: 124pp plus CD
Item number: 1245
ISBN: 9780980831535
AU $55.00

(incl GST)

This teacher resource examines Aboriginal and Torres Strait Islander rights and freedoms in Australia in the context of international declarations and movements. Written for the Australian Curriculum: History at Year 10, it includes summaries, curriculum links, sources, varied activities and an accompanying CD, relevant to both national and Victorian examples.
This blackline master resource may be reproduced for classroom use.