NOTE: Whilst every effort is made to process orders promptly, allow 7 working days for goods to be dispatched.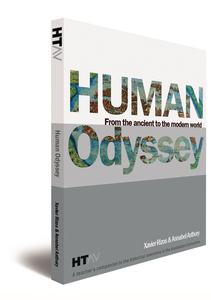 Human Odyssey: From the Ancient to the Modern World
Publisher: HTAV
Length: 340pp plus CD
Item number: 1202
ISBN: 978-0-980831-50-4
AU $60.00

(incl GST)
Dubbed a 'life saver' by teachers, this practical guide to the Australian Curriculum overviews (Years 7–10) offers step-by-step instructions on teaching world history from 60,000 BCE to the present.
Based on a Big History approach, Human Odyssey explores long-term patterns and cycles in human history, from early humans to the war in Afghanistan. A must-have resource for all secondary teachers.
Human Odyssey features:
Summaries
Varied class activities
Colour timelines, maps and graphics
Primary sources
Worksheets
Teacher notes
Index
CD of key materials and further tasks.
Many materials also apply to depth studies.