HTAV News
Call for Papers FINAL CALL - HTAV Middle Years History Conference
23 Apr 19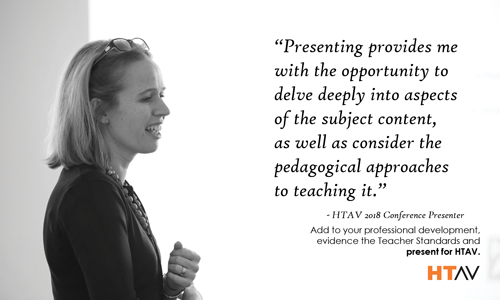 With the additional demands nearing the end of term 2 for teachers, we have extended the call for papers to support those who still wish to submit their proposals.

Please submit your proposal no later than Tuesday 16 July 2019.
Please note that we cannot extend the submission date any further.

Do you have an activity, unit of work or pedagogical idea that has worked well in your Middle Years (Levels 7-10) classroom? Would you like to share it with other teachers?
The History Teachers' Association of Victoria (HTAV) invites teachers, academics, cultural organisations and community groups to participate as presenters at the 2019 HTAV Middle Years History Conference.

Event: HTAV Middle Years History Conference 2019
Date: Friday, 18 October 2019
Venue: CQ Functions, 113 Queen Street, Melbourne CBD

For full details and to submit your proposal, please click here.
6 Sep 20

10.00am – 1.30pm

6 Sep 20

6 Sep 20

12.30pm – 4.10pm

6 Sep 20

6 Sep 20

12.30pm – 5.30pm

6 Sep 20