Present for HTAV
Call for Presenters

The F–10 History Conference 2018 Call for Presenters is now open!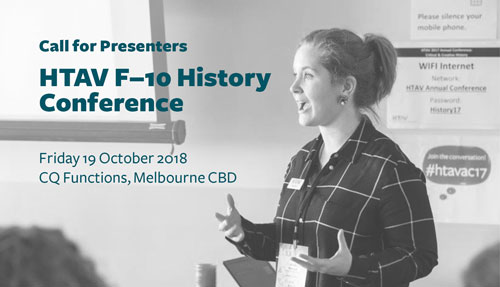 Event: HTAV F–10 History Conference 2018
Date: Friday, 19 October 2018
Venue: CQ Functions, 113 Queen Street, Melbourne CBD
Do you have an activity, unit of work or pedagogical idea that has worked well in your F–10 classroom? Would you like to share it with other teachers?
This year HTAV are bringing primary and secondary teachers (levels F – 10) together for a day of combined professional learning. We encourage primary and secondary teachers to come along for valued networking opportunities and gain access to high-level learning with a focus on helping teachers specialise in history content, the Victorian curriculum, various teaching strategies and resource ideas.
With these in mind, HTAV invites teachers, academics, cultural organisations and community groups to participate as presenters at the 2018 HTAV F–10 History Conference.

All presenters will be entitled to free registration so that they may attend other presentations if they wish.

Presentations will be fifty minutes duration.

Please share this information with other colleagues who might be interested in presenting. You might also consider co-presenting with someone.

To submit your workshop proposal please click here.

Proposals are due by Friday, 15 June 2018.

If you would like to talk about your proposed session/workshop, please do not hesitate to contact Myra Karantzas, Events Manager, on 03 9417 3422 or at m.karantzas@htav.asn.au

We look forward to receiving your proposal.
2018 F-10 History Conference Call for Presenters
26 Jul 18

9.00am - 4.00pm

26 Jul 18

9 Sep 18

10.00 am - 5.30 pm

9 Sep 18