Present for HTAV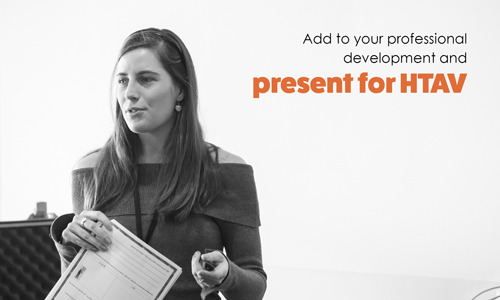 CALL FOR PAPERS NOW OPEN!

HTAV 2019 Annual Conference: Past Tense, Present Tension
The HTAV invites teachers, academics, cultural organisations and community groups to participate as presenters at HTAV's flagship event for the year, the 2019 HTAV Annual Conference: Past Tense, Present Tension. We look forward to receiving proposals for the conference that has brought so much value to our community over the years and our presenters are a key part of the richness that the HTAV Annual Conference program delivers.
The Annual Conference will feature a range of prominent speakers and educators. The event will offer a comprehensive selection of ideas for effective classroom teaching practice. You could be part of this! Participants will explore the discipline of History, what it means to be a History teacher in the twenty-first century and the value of teaching History.

The conference will include a range of sessions featuring twenty-first century skills for teachers and students, curriculum updates, teaching and learning ideas to take away, technologies to try, pop culture, the enrichment of your content knowledge, skills to learn, history interpretation as well as content covering VCE History Units 2 and 4 . In addition, we would consider favourably workshops that address historical thinking, assessment, ready-to-use units of work, unique ways to engage students, developments and best practice in pedagogy and/or the use of online tools, social media and the role of emerging technologies to support classroom instruction.
All presenters will be entitled to free registration on the day of their workshop so that they may attend other sessions if they wish.

All presentations will be fifty minutes in duration.
Please share this information with any colleagues who might be interested in presenting.

Conference Details:
HTAV Annual Conference: Past Tense, Present Tension
When: Thursday 25 and Friday 26 July 2019
Where: CQ Functions, 113 Queen Street, Melbourne
To submit your workshop proposal please click here.

Proposals are due by Friday, 22 March 2019.

If you would like to discuss your proposed workshop/s, please do not hesitate to contact Myra Karantzas, Events Manager by phone 03 9417 3422 or via email m.karantzas@htav.asn.au.
2019 HTAV Annual Conference: Past Tense, Present Tension
29 Mar 19

9.30am – 3.35pm

29 Mar 19

8 Sep 19

10.00 am - 5.30 pm

8 Sep 19