Program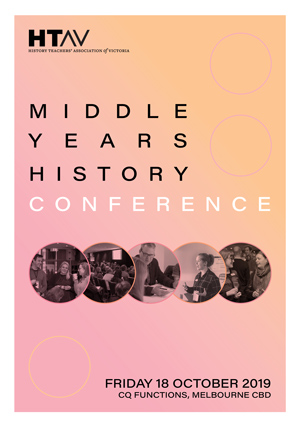 When: Friday 18 October 2019
Where: CQ Functions, 113 Queen St, Melbourne CBD

Early bird rates apply up to midnight on Friday 4 October.
For the rates for registrations completed after this date – please add $50 to all rates.

Registrations close Thursday 10 October 2019.
---

The HTAV Middle Years History Conference features an impressive range of ideas, strategies and options for the busy History teacher.

All historical understanding in the community starts with you. Join other teachers from across Victoria who are also igniting the 'History' spark in students and learn from great presenters who want to stoke the fire.

We look forward to welcoming you on the day!
Check out the program.
Log into the HTAV website to unlock your member rate.
---
Full program (coming soon)
TIME

SESSION

9.00am – 9.45am
REGISTRATION
9.50am – 10.15am
WELCOME AND HOUSEKEEPING
10.15am – 10.25am
IMMERSIVE HISTORY – SCHOOL HISTORY TOURS
HTAV's Major Sponsor Latitude Group Travel

10.30am – 11.25am

SESSION 1:
Please choose one workshop from this session.
1.1
Differentiation in Action – Practical Strategies
Ilanna Furfaro, Beaconhills College


LEVELS 9-10; BYOD

1.2
All Roads Lead to Roman History
Dr Andrew Connor, Monash University


LEVELS 7-8

1.3
Using Digital Resources for HASS/History
David Arnold, National Museum of Australia and Tim Gurry OAM, Ryebuck Media


Levels 5-10; BYOD

1.4
A French Australia?
Matthew Allanby, Geelong Grammar School


LEVEL 9; BYOD

1.5
Lessons from Dark Emu
Preeti Maharaj, Mount Alexander College


LEVELS 7-10; BYOD

1.6
Poster Power!
Kaye De Petro, HTAV


LEVELS 7-10; BYOD; PUBLISHER SESSION

1.7
Making History Stick
James Sach, Goulburn Valley Grammar School


LEVELS 7-10

11.25am – 11.55am
MORNING TEA

12.00pm – 12.55pm

SESSION 2:
Please choose one workshop from this session.
2.8
Creating a Project Based Learning Unit
Sarah Cattapan, Marcellin College and Marie O'Brien, Marymede Catholic College


LEVELS 7-10; BYOD

2.9
Teaching History for Our Environment
Dr Rosalie Triolo, Monash University


LEVELS 7-10

2.10
Higher-Order Thinking in the Middle School – Scaffolding for Success!
Gerard Alford, itc publications


LEVELS 7-10; BYOD

2.11
Chinese History through Experiential Learning
Dominic Brash, Coburg High School


LEVEL 7; BYOD

2.12
Developing Empathy – The Black Death
Miriam Iuricich and Matt Milburn, Craigieburn Secondary College


LEVELS 7-8; BYOD

2.13
Project Based Learning vs the Traditional Classroom
Adele Ryan and Hannah Wise, Ballarat Grammar


LEVELS 7-10; BYOD

2.14
Ideas for Incorporating Indigenous Perspectives
Kara Taylor, Irymple Secondary College


LEVELS 7-10

1.05pm – 1.50pm
KEYNOTE SESSION
Assessment as a Gift, not a Burden
Ben Lawless, Aitken College and Lawless Learning
1.50pm – 2.30pm
NETWORKING LUNCH
2.30pm – 2.45pm
LATITUDE GROUP TRAVEL MAJOR PRIZE AND EXHIBITOR PASSPORT PRIZE DRAWS
2.45pm – 3.10pm
HTAV AWARDS FOR EXCELLENCE IN HISTORY TEACHING

3.15pm – 4.10pm

SESSION 3:
Please choose one workshop from this session.
3.15
Black Death Unit & Assessment
Tania Deguara, Ivanhoe Grammar School


LEVELS 7-8

3.16
Learning about Vikings Through Sources
Matthew Burow and Holly Pedley, Oxley Christian College


LEVELS 7-8; BYOD

3.17
Big Ideas in Year 10 History
Jane Cornelius and Sarah Sans, Lowther Hall Anglican Grammar School


LEVEL 10

3.18
Digital Resources in the Classroom
David Finlayson, Diamond Valley College


LEVELS 9-10; VCE; BYOD

3.19
The Source of all Knowledge!
Dr Catherine Hart, Education Consultant


LEVELS 7-10; BYOD; PUBLISHER SESSION

3.20
Engaging Source Activities to Make Skills Fun!
Meaghan Ryan and Kirk Thomson, St Bede's College


LEVELS 7-10

3.21
After Armistice: What Happens When It's Over?
Dr Jo Clyne, HTAV and Dr Jenny Grounds, Medical Association for Prevention of War


LEVELS 9-10; BYOD; PUBLISHER SESSION

4.15pm – 5.30pm

NETWORKING DRINKS FOR CONFERENCE PARTICIPANTS
Lanai Cocktail Lounge

....AND

SPECIAL EVENT
PRESENTATION OF AWARDS FOR STUDENT WINNERS OF THE NATIONAL HISTORY CHALLENGE, HTAV HISTORICAL FICTION COMPETITION and the AUSTRALIAN HISTORY COMPETITION
CQ Functions, Plenary Room
18 Oct 19

9.00am - 4.00pm

18 Oct 19

21 Nov 19

12.30 pm–4.05 pm

21 Nov 19