Program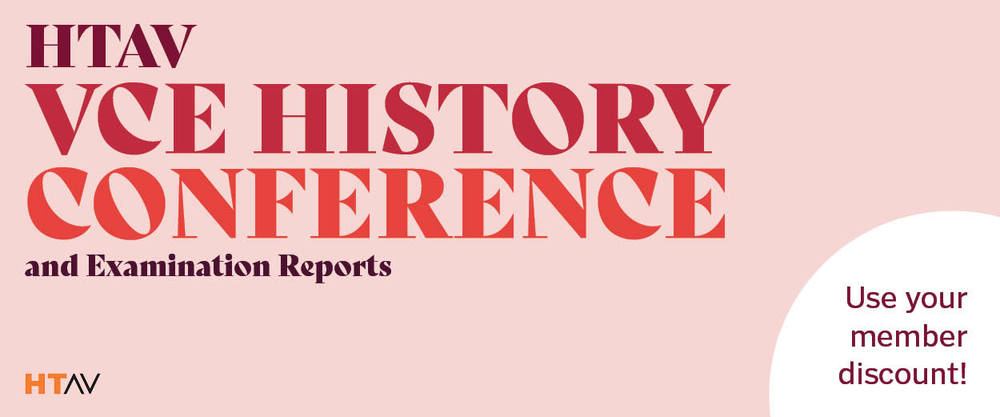 Registrations have now closed. We look forward to welcoming everyone to the conference.
When: Friday 21 February 2020, 9.00 am – 3.30 pm
Where: CQ Functions, 113 Queen Street, Melbourne CBD

Early bird registrations close: Friday 7 February 2020
All registrations must close: Thursday 13 February 2020

This HTAV professional learning conference is structured to support VCE teachers to expand their own content knowledge, pick up classroom-ready tips and resources, think deeply about VCE assessment, and catch up with peers and mentors from all over Victoria.

We look forward to welcoming you on the day!

Confirmation emails with session allocations and full event details will be issued during the week beginning Monday 17 February 2020.
Check out the program
Download the flyer
Choose your workshops
Register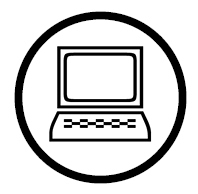 Bring your own device
TIME
SESSION
9.00 am – 10.00 am
REGISTRATION
10.00 am – 10.15 am
WELCOME AND HOUSEKEEPING

10.20 am – 11.10 am

SESSION 1: Please choose one workshop from this session.
1.1
VCE Units 3 and 4 – Revolutions: America
Content Knowledge
Beyond Zinn: Recent Scholarship on the American Revolution
Lucy Jongebloed and Ashley Keith Pratt, Melbourne Girls Grammar
1.2
VCE Units 3 and 4 – Revolutions: China
Classroom Ideas
Chinese Revolution: Improving Student Understanding and Analysis Skills
Ian Lyell, Camberwell Girls Grammar School
1.3
VCE Units 3 and 4 – Ancient History: Greece and Rome
Content Knowledge
Homer, Virgil and the Roots of Greek and Roman Cultural Values
Raquel Fenby and Christopher Parkinson, Suzanne Cory High School
1.4
VCE Units 3 and 4 – Australian History
Content Knowledge
Aboriginal and European Land Use in the Murray Mallee, 1834-1860
Emeritus Professor Richard Broome AM, La Trobe University
1.5
VCE Units 1, 3 and 4
Classroom Ideas
My Students are Poor Readers so How can I Teach them History?
Elizabeth Morgan, Girton Grammar School
1.6

VCE Units 1, 3 and 4
Classroom Ideas
Going SOLO with Historical Thinking Concepts
Dr Marianne Hicks and Alexandra Pierce, Brunswick Secondary College
This session has been cancelled. We apologise for any inconvenience caused.

1.7
VCE Unit 1 – Twentieth Century History
Classroom Ideas
Social and Cultural Change in Nazi Germany
Stephen White, Oxley Christian College
1.8
VCE Units 3 and 4 – Revolutions: France
Content Knowledge
Explaining the Terror in the French Revolution
Emeritus Professor Peter McPhee AM, The University of Melbourne
1.9
VCE Units 3 and 4 – Revolutions: Russia
Classroom Ideas
Patriot Pictures: Interpreting Russian Revolution Art
Dr Michael Adcock, Melbourne Grammar School
1.10
VCE Unit 1 – Global Empires
Content Knowledge
Two Empires to Consider: Ottoman and Muscovite
Associate Professor Adrian Jones OAM, La Trobe University
1.11
VCE Units 3 and 4
Classroom Ideas
Empower Yourself! Teacher Toolkit for Historical Skill Development
Maddi Schmidt, St Francis Xavier College
11.15 am – 11.40 am
MORNING TEA
11.45 am – 11.50 am
Immersive History – School History Tours with Latitude Group Travel

11.50 am – 12.30 pm

VCAA Advisory Session – VCE History Study Design 2021-2025
Gerry Martin, Curriculum Manager (History and Civics), Victorian Curriculum and Assessment Authority (VCAA)

VCE History 2021-2025 will be implemented in schools in 2021. Firstly, this session will give an overview of the new VCE History Study Design and changes you need be aware of in planning for 2021. Secondly, this session will unpack the updated Characteristics of the Study and their explicit links to all key skills. Finally, this session will examine the new Units 3 and 4 Australian History. There will be opportunities for questions and answers during the session.
12.35 pm –
1.25 pm
SESSION 2: Please choose one workshop from this session.
2.1
VCE Units 3 and 4 – Revolutions: America
Classroom Ideas
Exploring the American Revolution One Lesson at a Time
Rodney Latham, Good News Lutheran College
2.2
VCE Units 3 and 4 – Australian History
Content Knowledge
Contesting the Land: Transformation and Conflict in Port Phillip
Bill Lewis, Haileybury
2.3
VCE Unit 1 – Twentieth Century History
Classroom Ideas
Building Engagement in the History Classroom – 20th Century History
Jessica Di Benedetto and Bronwyn Waterfall, Rowville Secondary College
2.4
VCE Units 1, 3 and 4
Classroom Ideas
Historical Thinking in the VCE History Study Design
Ashley Keith Pratt, Melbourne Girls Grammar
2.5
VCE Units 3 and 4 – Revolutions
Classroom Ideas
Rev'd up for Literacy: Supporting Critical Reading, Writing and Thinking
Dr Catherine Hart, Chisholm TAFE and Nick Kopitschinski, Emmanuel College
2.6
VCE Units 3 and 4 – Revolutions: Russia
Content Knowledge
An Artistic and Intellectual Insight into the Russian Revolution
Associate Professor Adrian Jones OAM, La Trobe University
2.7
VCE Units 3 and 4 – Revolutions: France
Classroom Ideas
French Revolution and Historians
Dr Darius von Güttner, The University of Melbourne / Goulburn Valley Grammar School
2.8
VCE Units 1, 3 and 4 – Ancient History
Classroom Ideas
Teaching Units 1-4 Ancient History – Enlivening Ancient Civilisations
Raquel Fenby and Christopher Parkinson, Suzanne Cory High School
2.9
VCE Units 1, 3 and 4
Classroom Ideas
SASSY Mnemonics for Low Literacy Students
James Ridley, Hoppers Crossing Secondary College
2.10
VCE Units 3 and 4 – Australian History
Classroom Ideas
Assessment, Pedagogy, Resources and Australian History
Faye Quinn, Sacred Heart College, Kyneton
2.11
VCE Unit 1– Ancient History: Mesopotamia
Content Knowledge
Sex, Gender and Power in Mesopotamia
Dr Hilary Gopnik, Monash University
1.30 pm – 2.30 pm
NETWORKING LUNCH

2.35 pm – 3.30 pm

SESSION 3: Examination Reports and Cultural Experiences
(Please choose one presentation or cultural experience from the following sessions)
3.1
VCE Australian History – Examination Reports
Nick Hughes, VCAA Chief Assessor
3.2
VCE Ancient History – Examination Reports
Jeremy Daly, VCAA Chief Assessor
3.3
VCE Revolutions – Examination Reports
Deborah Erikson, VCAA Chief Assessor
3.4
Old Treasury Building Tour and Visit
3.5
Hellenic Museum Tour and Visit

3.45 pm – 5.00 pm

SOCIAL HOUR – NETWORKING DRINKS FOR CONFERENCE PARTICIPANTS

Lanai Level 2, CQ Functions

Join colleagues, catch up with old friends, meet new people and harvest good ideas at the HTAV Social Hour. Social Hour will take place in Lanai Level 2 at CQ Functions from 3.45pm. Proudly sponsored by anzuk Education
13 Mar 20

1.00 pm–4.10 pm

13 Mar 20

20 Apr 20

3.30pm - 6.00pm

20 Apr 20

30 Apr 20

3.30pm - 6.00pm

30 Apr 20