Exhibitors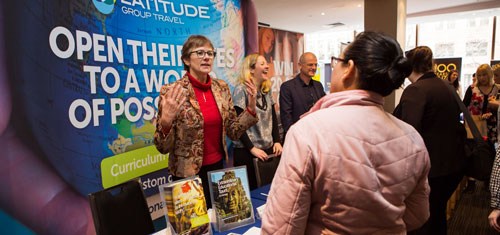 The conference advertisers and exhibitors have partnered with HTAV because they value what you do and want to connect with you. The financial contribution from these partners enables us to keep the cost of the conference down, and to take care of our members and other delegates with quality catering and venue support. HTAV's partners also go the extra mile and offer prizes and special discounts to conference delegates and to HTAV members during the year. We welcome new organisations who have not exhibited at HTAV events in the past and we are pleased to have the continued support of our regular exhibitors whose resources are so valued by HTAV members. You can help HTAV, and our generous sponsors and partners, by enquiring about their programs, services and products to find out whether they can help you.

On behalf of the history teachers of Victoria, we would like to thank all the exhibitors for their support.

You will have an opportunity to win some great prizes by simply visiting the conference exhibitions. Complete your exhibitor passport and submit your entry at the HTAV Membership table to win prizes kindly donated by various exhibitors and organisations.

By visiting the exhibition table of HTAV's major sponsor, Latitude Group Travel, you will also have the chance to go into the major prize draw to win up to $20 000 off the cost of a school tour.


The 2019 exhibitors are:
HTAV Major Sponsor: Latitude Group Travel


HTAV Program Sponsor: Pearson


ABC Splash
Australian Taxation Office
Bank First
Bendigo Heritage Attractions
Cambridge University Press
ClickView
Department of Veterans' Affairs
Education Perfect
Eureka Centre – City of Ballarat
HTAV Membership
HTAV Publishing
Islamic Museum of Australia
Jacaranda
Jewish Holocaust Centre
Kryal Castle
Macmillan Education Australia
National Vietnam Veterans Museum
National Capital Education Tourism Project (NCETP)
Old Treasury Building
Oxford University Press
Sovereign Hill
Victorian Electoral Commission
25 Jul 19

9.00am - 4.00pm

25 Jul 19

8 Sep 19

10.00 am - 5.30 pm

8 Sep 19