NOTE: Whilst every effort is made to process orders promptly, allow 7 working days for goods to be dispatched.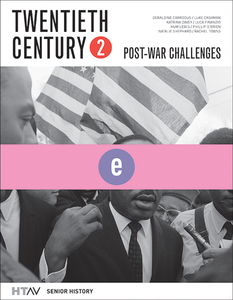 Twentieth Century 2: Post-War Challenges (eBook)
Publisher: HTAV Publishing
Item number: 1676
ISBN: 978-1-875585-34-2
AU $33.00

(incl GST)
Winner 2017 Educational Publishing Awards Australia
Category: Best Student Resource – Senior – English / Humanities / Languages / Arts / Technologies / Health & Physical Education
Judges: 'HTAV Twentieth Century series is an extremely comprehensive reference resource that is rich in sources, stimulus and media resources. The very well designed text makes the substantial content accessible. The activities and exam practice questions will be of great assistance to senior students.'
This ebook is now available through the following booksellers:
Campion MyConnect
Educational Ebooks
Updated sample chapters:
Chapter 1: Origins of the Cold War
Chapter 4: The Cuban Missile Crisis
Chapter 10: Terrorism
Please note: the ebook you purchase may look different to these sample pages, depending on the platform and device/s you are using.
This brand new, full-colour student textbook includes the following features:
> Full-colour design
> Engaging narrative
> Links to supplementary web resources
> Maps
> Summary diagrams
> Timelines
> Primary sources
> Historical interpretations
> 'Skills Focus' tasks
> Varied activities, including Source
> Analysis, Exam Practice and Extension
> Trivia
> Glossary
> Index
CONTENTS:
SECTION A: Competing Ideologies
Snapshot: World War II
Snapshot: Ideologies and 'isms'
Chapter 1: Origins of the Cold war
Snapshot: The United Nations
Chapter 2: Cold War Tensions
Snapshot: The Korean War
Chapter 3: Life Behind the Iron Curtain
Chapter 4: Cuba
Chapter 5: The Vietnam War
Chapter 6: End of the Cold War
SECTION B: Challenge and Change
Snapshot: Decolonisation
Chapter 7: Civil Rights
Chapter 8: Popular Movements
Chapter 9: The Arab-Israeli Dispute
Chapter 10: Terrorism