NOTE: Whilst every effort is made to process orders promptly, allow 7 working days for goods to be dispatched.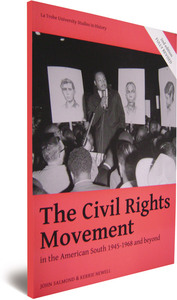 The Civil Rights Movement in the American South 1945-1968 and beyond
Publisher: La Trobe University
Item number: 901
ISBN: 978 1 86446 420 7
AU $38.00

(incl GST)
For older African Americans the election of President Barack Obama was like a thunderbolt from the blue. Why were they overwhelmed with emotion and national pride? This second edition of a popular text has been fully revised with the addition of new documents, images, questions, bibliography and websites. It allows students to explore and understand the momentous changes through the Civil Rights movement of the 1960s, which influenced liberation movements across the world. Its resonances are traced in recent times to the election of President Obama.