NOTE: Whilst every effort is made to process orders promptly, allow 7 working days for goods to be dispatched.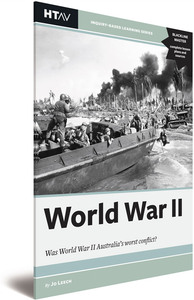 World War II (Inquiry-Based Learning Series)
Publisher: HTAV
Length: 40pp plus CD
Item number: 1045
ISBN: 978-1-875585-99-1
AU $55.00

(incl GST)

Was World War II Australia's worst conflict?
A complete blackline master unit of work for teachers.
This unit examines Australia's involvement in World War II. It uses a range of primary and secondary sources to address the following inquiry questions:
Who fought in WWII and why?
Why did the main players behave the way they did?
Which was the worst concentration camp in WWII?
Were Australians really under threat on the home front?
Was Menzies or Curtin the better wartime prime minister?
FEATURES
Primary source documents and images
Historical context
Learning objectives and outcomes
Stimulating inquiry questions
Step-by-step lessons that can be followed or adapted
Activities for a range of learning styles
Assessment tasks
CD of sources for easy printing
Includes glossary, maps, websites and useful facts.