NOTE: Whilst every effort is made to process orders promptly, allow 7 working days for goods to be dispatched.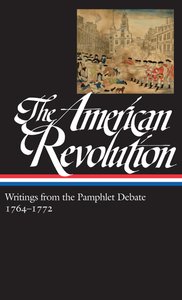 The American Revolution: Writings from the Pamphlet Debate 1764–1772
Publisher: Library of America
Length: 955pp
Item number: 9920
ISBN: 9781598533774
AU $65.00

(incl GST)
For the 250th anniversary of the start of the American Revolution, acclaimed historian Gordon S. Wood presents a landmark collection of British and American pamphlets from the political debate that divided an empire and created a nation.
In 1764, in the wake of its triumph in the Seven Years War, Great Britain possessed the largest and most powerful empire the world had seen since the fall of Rome, and its North American colonists were justly proud of their vital place within this global colossus. Just 12 short years later the empire was in tatters, and the 13 colonies proclaimed themselves the free and independent United States of America. In between, there occurred an extraordinary contest of words between America and Britons, and among Americans themselves, which addressed all of the most fundamental issues of politics: the nature of power, liberty, representation, rights and constitutions, and sovereignty. This debate was carried on largely in pamphlets and from the more than a thousand published on both sides of the Atlantic during the period Gordon S. Wood has selected 39 of the most interesting and important to reveal as never before how this momentous revolution unfolded. This first of two volumes traces the debate from its first crisis—Parliament's passage of the Stamp Act, which in the summer of 1765 triggered riots in American ports from Charleston, South Carolina, to Portsmouth, New Hampshire—to its crucial turning point in 1772, when the Boston Town Meeting produces a pamphlet that announces their defiance to the world and changes everything. Here in its entirety is John Dickinson's justly famous Letters from a Farmer in Pennsylvania, considered the most significant political tract in America prior to Thomas Paine's Common Sense. Here too is the dramatic transcript of Benjamin Franklin's testimony before Parliament as it debated repeal of the Stamp Act, among other fascinating works. The volume includes an introduction, headnotes, a chronology of events, biographical notes about the writers, and detailed explanatory notes, all prepared by a leading expert on the American Revolution. As a special feature, each pamphlet is preceded by a typographic reproduction of its original title page.

Library of America is an independent nonprofit cultural organisation founded in 1979 to preserve the United States' literary heritage by publishing, and keeping permanently in print, America's best and most significant writing. The Library of America series includes more than 300 volumes to date, authoritative editions that average 1,000 pages in length, feature cloth covers, sewn bindings, and ribbon markers, and are printed on premium acid-free paper that will last for centuries.