NOTE: Whilst every effort is made to process orders promptly, allow 7 working days for goods to be dispatched.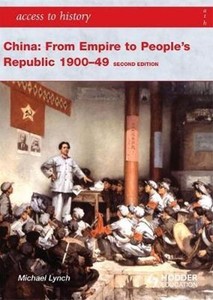 Access to History - China: From Empire to People's Republic 1900-49
Publisher: Hodder
Length: 170pp
Item number: 9909
ISBN: 9781444110128
AU $47.95

(incl GST)
Access to History gives students the best chance of success with this tried and tested series, combining in-depth analysis, engaging narrative and accessibility. Access to History is the most popular, trusted and wide-ranging series for senior history students.
This books contains authoritative and engaging content, includes thought-provoking key debates that examine the opposing views and approaches of historians, and provides exam-style questions and guidance to help students understand how to apply what they have learnt and achieve exam success.*
In 1900 China was politically undeveloped and economically exploited by Western colonial powers. Over the next 50 turbulent years it had rejected its imperial past, welcomed republicanism, survived Japanese occupation, witnessed civil war and embraced a Marxist revolution. These extraordinary developments are examined in this book, which combines a factual narrative with up-to-date analysis of the events. Throughout the book, key dates, terms and issues are highlighted, and historical interpretations of key debates are outlined. Summary diagrams are included to consolidate knowledge and understanding of the period, and exam-style questions and tips written by examiners provide the opportunity to develop exam skills.
*Note: This book is published in the UK and, thus, provides exam guidance from an international perspective.