NOTE: Whilst every effort is made to process orders promptly, allow 7 working days for goods to be dispatched.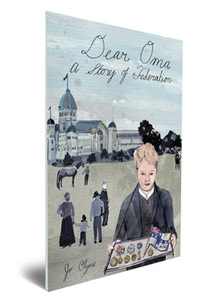 Dear Oma: A Story of Federation
Publisher: HTAV
Length: 25pp print book (6 copies) + 62pp enhanced e-book
Item number: 1347
ISBN: 9780987529428
AU $50.00

(incl GST)
Dear Oma is a beautifully-illustrated storybook for Upper Primary students, accompanied by an enhanced e-book containing 25 classroom activities.
Story summary: Twelve-year-old Karl Muller has just moved to Melbourne from Germany. Karl is struggling to adapt to his new home and misses his grandma, Oma. When he agrees to sell souvenirs for the opening of the new Parliament, Karl meets a cast of characters who will be affected by Federation. This story brings warmth to one of Australia's key turning points.

Australian Curriculum title - ideal for the Upper Primary classroom.
Each pack contains 6 copies of storybook (25pp) + enhanced e-book of class activities (62pp).
VIEW SAMPLE PAGES HERE
VIEW TEACHING RESOURCES SAMPLE PAGES HERE