NOTE: Whilst every effort is made to process orders promptly, allow 7 working days for goods to be dispatched.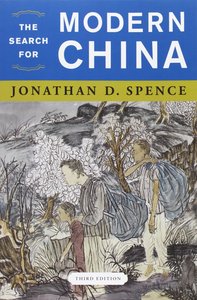 The Search for Modern China (3rd ed.)
Publisher: W. W. Norton
Length: 976pp
Item number: 9903
ISBN: 9780393934519
AU $83.95

(incl GST)
The leading textbook by the leading scholar.
This text, the classic introduction to modern China for students and general readers, emerged from Spence's highly successful introductory course at Yale, in which he traced the beginnings of modern China to internal developments beginning in the early seventeenth century. Strong on social and political history, as well as Chinese culture and its intersections with politics, this paperback is a longstanding leader in the survey course on modern China.