NOTE: Whilst every effort is made to process orders promptly, allow 7 working days for goods to be dispatched.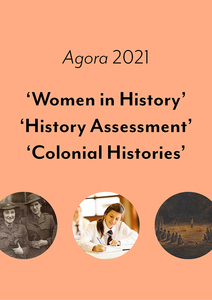 2021 Agora Print Subscription (3 Issues)
Publisher: HTAV
Length: 3 issues per year
Item number: 2021.33
AU $175.00

(incl GST)
Agora is a journal of curated professional reading for History teachers. This full-colour, PRINT subscription is for all three issues from 2021, posted directly to your preferred address as they are published. Build up your own professional library.
Agora publishes on topics including History teaching strategies, historical research in areas covered by the Australian and Victorian history curriculum, practical teaching resources and activities, and reviews of books that are useful for History teachers and students.
HTAV members should log in to access the member price of $45.00.
The non-member price of $175 includes an HTAV Individual Teacher membership AND the full-colour print subscription. (Please note, all HTAV members can access digital copies of Agora, including back issues here).
Please note that teachers outside Victoria, and retired, pre-service and early career teachers can join HTAV for less and take out a PRINT subscription of Agora during the application process. To learn more about HTAV membership benefits and categories, visit HTAV Membership here.