NOTE: Whilst every effort is made to process orders promptly, allow 7 working days for goods to be dispatched.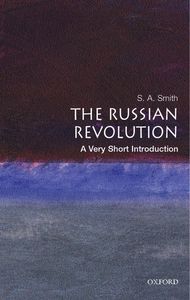 A Very Short Introduction to the Russian Revolution
Publisher: Oxford University Press
Length: 192pp
Item number: 9906
ISBN: 9780192853950
AU $19.95

(incl GST)
The Russian Revolution: A Very Short Introduction is an accessible introduction to the Russian Revolution that provides an analytical narrative of the main events and developments in Soviet Russia between 1917 and 1936. It examines the effect of the revolution on society as a whole—on different classes, ethnic groups, the army, men and women, and youth. Its central concern is to understand how one structure of domination was replaced by another. The book registers the primacy of politics, but situates political developments firmly in the context of massive economic, social and cultural change. Since the fall of Communism there has been much reflection on the significance of the Russian Revolution. The book rejects the currently influential, liberal interpretation of the revolution in favour of one that sees it rooted in the contradictions of a backward society, which sought modernisation and enlightenment and ended in political tyranny.