NOTE: Whilst every effort is made to process orders promptly, allow 7 working days for goods to be dispatched.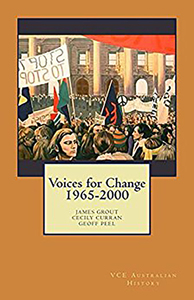 Voices for Change 1965-2000
Publisher: KIC Humanities
Item number: 1766
ISBN: 9781546783947
AU $22.00

(incl GST)
Published by KIC Humanities
Australia experienced significant economic, political, social and cultural change during the latter decades of the 20th Century. The nature of our society was challenged, and at times the nation shifted its conventions and perspectives.
The final Area of Study in the Victorian Certificate of Education (VCE) Australian History course examines 'Voices for Change 1965-2000' within this context.
This text aims to provide students with the essential content to tackle this section of the final examination. It is also intended to be a pivotal resource in preparing for the associated School Assessed Coursework (SAC) task.
In this Area of Study , students examine two of the five prescribed topics. The VCE Study Design prescribes that 'students should be able to analyse and evaluate' the selected changes by drawing on 'the key knowledge and key skills outlined'. All knowledge dot points are covered in a clear systematic format.
This textbook has been designed to cover essential course requirements in one accessible and comprehensive resource. Dedicated sections on the four most-studied areas of change form the core of this book:
Australia's Involvement in the Vietnam War
Aboriginal Land Rights
New Patterns of Immigration
Equality for Women
In terms of School Assessed Coursework (SAC) requirements, schools have the option to assess this outcome via an analysis exercise, an essay or an historical inquiry. This resource enables systematic coverage of the key knowledge, allowing students to springboard into further research.
The authors all have postgraduate qualifications in their respective fields and currently teach both VCE and IB senior secondary classes at Kardinia International College in Geelong.