NOTE: Whilst every effort is made to process orders promptly, allow 7 working days for goods to be dispatched.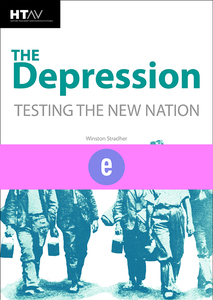 The Depression: Testing the New Nation (eBook)
Length: 36pp
Item number: 7141
ISBN: 978-0-9875294-4-2
AU $15.00

(incl GST)
Developed for VCE Australian History, this short overview for teachers and students includes an introductory essay and a collection of primary source documents on the Great Depression.
New eBook format. (Previously paperback, ISBN 9781875585748)
TO DOWNLOAD YOUR EBOOK:
Click on the blue 'Download Area' button on the order confirmation page. A pop-up window will provide a link to download the ebook. You will not have another opportunity to download.