NOTE: Whilst every effort is made to process orders promptly, allow 7 working days for goods to be dispatched.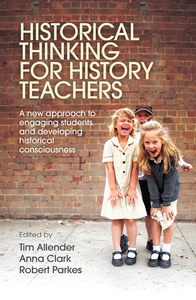 Historical Thinking for History Teachers
Publisher: Allen & Unwin
Length: 384pp
Item number: 1901
ISBN: 9781760295516
AU $59.99

(incl GST)
An edited collection surveying the nature of Australian history teaching today at both the primary and secondary level.
Effective Australian history education has never been more important for the development of critically aware and thoughtful young people. History fosters important skills in reasoning, historical consciousness and empathy; and an appreciation of history is crucial to the development of students' understanding of the very nature of our society. This edited collection comprises contributions from leading historians, educators and practising teachers, and surveys Australian history teaching today, from the development of the national curriculum to fostering historical thinking and promoting effective engagement in the history classroom.
The book begins with an analysis of the principles underlying the drafting of the national curriculum and features insights from the writers of the curriculum themselves. It focuses on the curriculum from primary- and secondary-school teaching perspectives.
Part 2 examines the teaching of historical expertise including historical thinking and value formation, as well as productive assessment and the important role social history can play in the classroom.
Part 3 concentrates on specific approaches to history teaching including teacher talk; the use of historical fiction and film; digital technology and the internet; as well as museums as a teaching medium.
Part 4 analyses key aspects of Australian history teaching including Indigenous perspectives, teaching citizenship and assisting the pre-service teacher in their transition to becoming a professional.
Rich with insights into historical skills, historical concepts and critical thinking, as well as practical guidance on translating principles into engaging classroom approaches, this is an essential reference for both pre-service and in-service history teachers and educators.
About the Authors
Tim Allender is Professor and Chair of History and Curriculum at the University of Sydney and has taught preparing history teachers for over 20 years. He has published on history curriculum issues and has held an ARC Discovery grant that looked into classroom history practice.
Anna Clark is a Future Fellow and Associate Professor at the University of Technology, Sydney. She has written extensively in the field of history education and historical consciousness.
Robert Parkes is Associate Professor of Education at the University of Newcastle and convenor of the HERMES History Education Research Network. He is also the founding editor of Historical Encounters: A journal of historical consciousness, historical cultures and history education.