History TeachMeets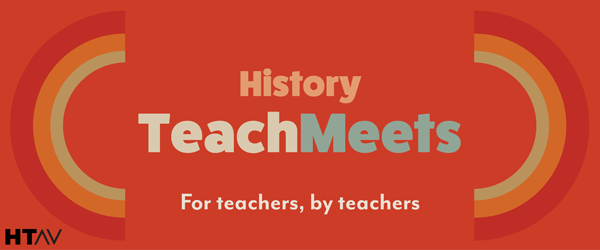 HTAV is searching for teachers that have something they would like to share with other History teachers via our online recorded TeachMeets. Presentations would be brief and informal. We are looking for teachers who would like to share their ideas in any of the following:
Levels 7-10 History
VCE History Units 1-4 (excluding Revolutions)
Must-use resources
Assessment
Online teaching and learning
Literacy for History
History teaching in primary schools
Any other areas welcome.

If you would like to learn more about this opportunity or participate in a session, please email Myra Karantzas, HTAV Events Manager, at m.karantzas@htav.asn.au.

---


Coming Soon

Members will soon have access to a recorded TeachMeet on the following topics:
VCE Revolutions
Sassy Rubrics
Historical Thinking Skills
Digital Learning Tools
Keep an eye on the website and HTAV Member Bulletin for details on how to access this insightful professional learning.
6 Sep 20

10.00am – 1.30pm

6 Sep 20

6 Sep 20

12.30pm – 4.10pm

6 Sep 20

6 Sep 20

12.30pm – 5.30pm

6 Sep 20