2020 Middle Years History Conference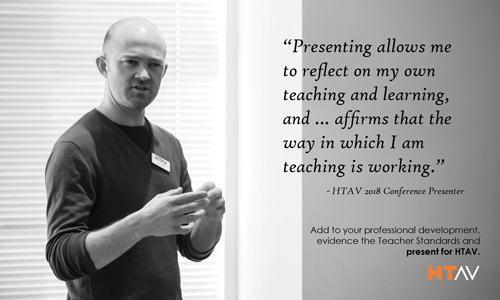 Join us at the 2020 HTAV Middle Years (Levels 7-10) History Conference – as a Presenter!

All presenters must receive approval from their school/college leadership (where applicable) to present and attend this conference PRIOR to submitting their proposal.


HTAV is proud to support History teaching and we invite you to be part of this rewarding opportunity.

Not sure what you would like to present about? Here are some ideas to consider:
Do you have something that has worked well in your classroom?
How do you 'champion' History through your school?
Want to share your resource ideas with others?
Assessment and reporting tips?
What digital tools and/or apps work well with your students?
Tips on improving literacy in the History classroom?
How to teach History when you are teaching out-of-field?
How to lead a History teaching team?
How teachers can work together to help improve learning outcomes in students?
Tackling the curriculum to meet VCAA requirements?
Differentiation for diverse backgrounds and abilities.
Student engagement and agency
There is a unique, warm and welcoming atmosphere when history teachers gather together to share professional learning and networking, catch up with colleagues and then walk away smiling at the end of the day. You can play a valued role by presenting.
Remember, our presenters can also attend other conference sessions for free!

We invite you to offer a workshop at the HTAV Middle Years History Conference:
When: Friday 16 October 2020
Where: CQ Functions, 113 Queen Street, Melbourne
Workshop proposals due: Tuesday 31 March 2020

Submit Your Proposal Now!

If you would like to talk about your proposed workshop, please do not hesitate to contact Myra Karantzas, Events Manager, on 03 9417 3422 or at m.karantzas@htav.asn.au
21 Feb 20

9.00 am - 3.30 pm

21 Feb 20

13 Mar 20

1.00 pm–4.10 pm

13 Mar 20

6 Sep 20

10.00am – 1.30pm

6 Sep 20