HTAV News
Selection of Digital Learning articles now available to all
5 Aug 20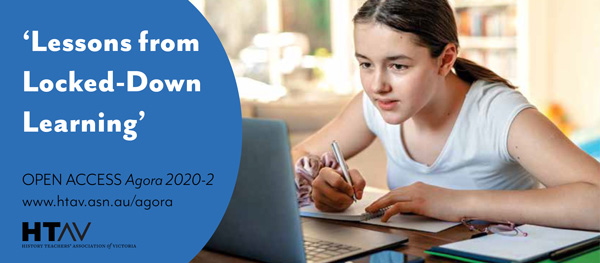 HTAV has made a selection of Agora journal articles OPEN ACCESS to aid teachers returning to remote learning:
Agora 2020-2: 'Lessons from Locked-Down Learning' – Daniel Sandvik

A survey of teachers and students has revealed both the trials and triumphs they experienced when teaching was conducted entirely online due to the COVID-19 isolation restrictions in place earlier this year.

Agora 2018-1: Digital Learning Issue
In this 'Digital Learning' issue, we address how the integration of digital tools into schools has and will continue to shape History pedagogy. Technology should not be perceived by educators as an add-on, but rather a tool to enrich historical inquiry and provide wider opportunities for students to demonstrate learning.
28 Jul 21

8.45am - 5.30pm

28 Jul 21

12 Sep 21

10.00am – 2.50pm

12 Sep 21

12 Sep 21

10.00am – 1.30pm

12 Sep 21