HTAV News
2022 VCE History Revolutions – Booklist Information Session
15 Apr 21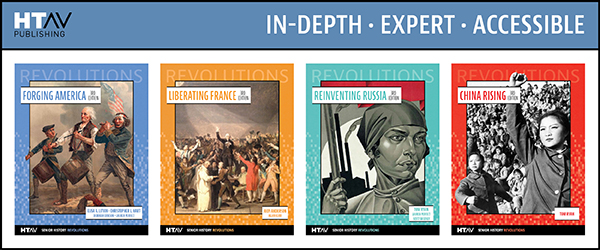 2022 VCE History Revolutions – Booklist Information Session
Thursday 20 May 2021, 4.30 pm – 5.30pm
Online via Zoom

Registrations must close Monday 17 May 2021

FREE! Registrations essential.


Find out what's new and what's changed in HTAV's new textbook editions for VCE Revolutions (2022–2026 Study Design) at a free online information session.
Tom Ryan, expert teacher and author of China Rising, 3rd edition and Reinventing Russia, 3rd edition, will take you through the features of the new books, including our focus on readability and accessibility. He will also provide practical tips for using these textbooks effectively in the classroom and be available to answer your questions.

View sample pages here

Click here to register today.
20 May 21

4.30 PM–5.30 PM

20 May 21

26 May 21

4.00pm - 5.30pm

26 May 21

12 Sep 21

10.00am – 2.50pm

12 Sep 21