HTAV News
2022 Call for Workshops Now Open!
11 Oct 21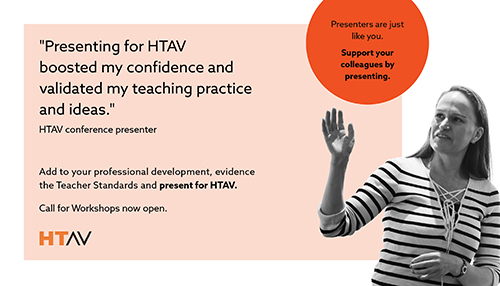 Add to your professional development, evidence the Teacher Standards and present for HTAV.

We are now accepting workshop proposals for our Annual Conference in 2022. Click on the link for more information and to submit your proposal (multiple submissions are welcome):
HTAV Annual Conference: History Rising
Workshop proposals are due by: Tuesday 22 March 2022
Conference Dates: Thursday 28 – Friday 29 July 2022
Venue: Q Events by Metropolis, 123 Queen Street, Melbourne
Do you have an activity, unit of work or pedagogical idea that has worked well in your classroom? Or have you built up your historical knowledge about a particular aspect of the curriculum? Would you like to share it with other teachers?

Whether you have or have not yet presented for HTAV previously, we would be delighted to receive your proposal.

Presenting for HTAV is a rewarding experience and adds to a presenter's own professional development. Presenters also value the feedback they receive from colleagues.

All presenters attend the rest of the conference for free on the day they are presenting.

Please share this information with anyone in your network who might also be interested in presenting.
24 Feb 22

9.00 am - 3.30 pm

24 Feb 22

25 Feb 22

10:00 am – 3:00 pm

25 Feb 22

10 Mar 22

1.00 pm–3.40 pm

10 Mar 22