HTAV News
2021 Annual Conference now online!
7 Jul 21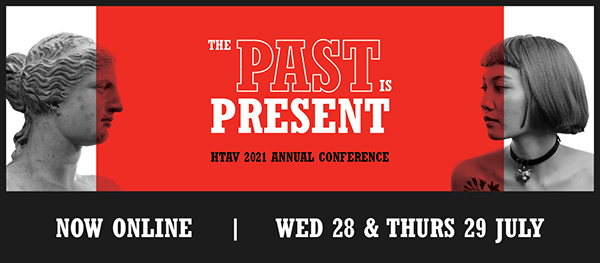 HTAV 2021 Annual Conference – The Past is Present
Wednesday 28 & Thursday 29 July 2021
NOW ONLINE!
Registrations must close Friday 23 July.


GOING ONLINE IN 2021!
The HTAV 2021 Annual Conference, themed The Past is Present, will feature an impressive range of workshops, lectures and practical seminars that will provide ideas for engaging classroom strategies, activities and pedagogy to help build on the learning outcomes of students.

Join us on an informative and insightful History journey and share in the unique spirit when the History community comes together.

Everyone who registers for the Annual Conference will be sent access to the recordings of the keynote and ALL of the workshops scheduled for that day (or days if you have a two-day registration). Recordings will be available for a limited time after the conference.

This is a massive boost to the value the conference will offer you. Make sure you mention this to your school leaders when you apply for this professional learning!

However, we would still love you to be part of the actual event on the day!

Attending the Annual Conference in 'real time' means you gain the benefits of:
connecting with presenters, old friends and new colleagues through chat
asking questions of presenters during your sessions and engaging with other attendees' commentary
discovering the new resources and services being offered by the exhibitors
being eligible to win some great prizes in the daily prize draws
supporting our generous presenters and dedicated conference organisers by adding to the buzz on the day.
24 Aug 21

2.00 pm–4.00 pm

24 Aug 21

12 Sep 21

10.00am – 2.50pm

12 Sep 21

12 Sep 21

10.00am – 1.30pm

12 Sep 21