HTAV News
2021 Annual Conference: Call for Workshops Closes in March - Don't Miss your Chance!
25 Sep 20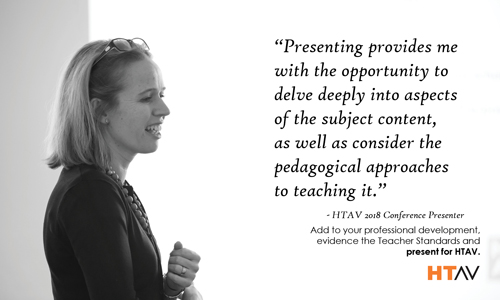 Presenters are just like you! Join us as a presenter in 2021.
The call for workshops is open for the 2021 HTAV Annual Conference.
The HTAV invites teachers, academics, cultural organisations and community groups to support your colleagues by sharing your historical knowledge and expertise in the Victorian Curriculum, teaching strategies and resource ideas.

Do you have an activity, unit of work or pedagogical idea that has worked well in your classroom? Or have you built up your historical knowledge about a particular aspect of the curriculum? Would you like to share it with other teachers?

Whether you have or have not yet presented for HTAV previously, we would be delighted to have you on board.

COVID-19 restrictions: if any social distancing/public gathering restrictions prevent us delivering any of the conferences at our physical venue, all conferences will proceed as a virtual event on the same dates.

View more details and submit your proposal by clicking here.
31 Dec 21

8.45am - 5.30pm

31 Dec 21

28 Feb 22

9.00 am - 3.30 pm

28 Feb 22