Student Lectures 2021 – Australian History - 12 Sep 21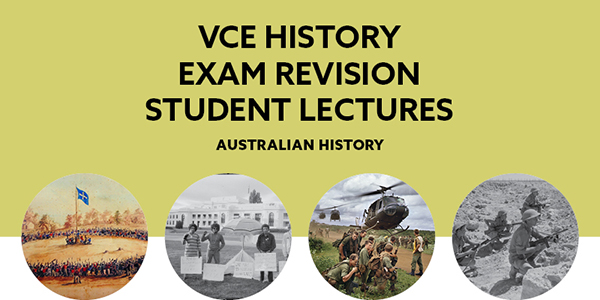 VCE History Exam Revision – Reaching all Victorian students ONLINE
When
Sunday 12 September 2021
Where
ONLINE
You will receive a unique login code to access and view the revision lectures for which you have registered.
Logistics
Read about the Student Lecture event platform and what to expect from a virtual event here.
Fees
All students / teachers $59 (Prices are applicable per stream)

REGISTRATIONS MUST CLOSE THURSDAY 2 SEPTEMBER 2021.
Check out the program for your subject.
Register. Make sure you have registration and payment details prepared before registering.
Revise with the Study and Exam Guides and the practice exams.

Not after the Australian History Student Lectures?

The VCE History Exam Revision Student Lectures will be delivered as an online, live event.

These Exam Revision Lectures are a must for students of VCE Australian History, Ancient History and Revolutions. The lectures will help to prepare students for the exam as well as covering course content and revision strategies.
Learn from some of the best VCE History teachers Victoria has to offer. Registered attendees will also have access to the presenters during the lecture and can ask questions during the Q&A.

All students will also have access to the Skills-Based Session full of exam tips and strategies. The HTAV Exam Revision Student Lectures are not to be missed!

Included in the cost of registration, registered attendees will also gain access to presenter handouts and recordings made available after the lectures.

---
TIME

SESSION

AUSTRALIAN HISTORY
10.00am – 11.10am
Lecture One – The Exam: Sections A and B
11.15am – 12.25pm
Lecture Two – Crises That Tested the Nation, 1929–45
A.

..

World War II
B.

..

The Depression
..12.30pm – 1.30pm
Skills-Based Session: The Dos and Don'ts of the Year 12 VCE History Examinations
Ian Lyell, Camberwell Girls Grammar School

..

1.40pm – 2.50pm

..

Lecture Three – Voices for Change, 1965–2000


..

(Please choose one lecture from this session)
A.

..

Australia and the Vietnam War
B.

..

Aboriginal Land Rights
C.

..

Immigration
---

Teachers, why not download the flyers for your subject and distribute them to your students now so they can secure their place?

Need help to register? Follow the step-by-step instructions
on this flyer or contact HTAV at events@htav.asn.au.

Did you know? Teachers, if you register a group of 10 or more students, you can attend for free! Contact HTAV at events@htav.asn.au to receive your Lecture details closer to the event date.
HTAV is proud to be an Australian, not-for-profit Association that invests all profits into History teaching in Victoria. The opinions expressed at the Student Lectures are those of presenters, and do not necessarily reflect the views of HTAV.
| | |
| --- | --- |
| Event Location: | Online |
| Registrations Open: | 23 Feb 21 9:00 AM |
| Registrations Close: | 2 Sep 21 11:55 PM |
28 Jul 21

8.45am - 5.30pm

28 Jul 21

24 Aug 21

2.00 pm–4.00 pm

24 Aug 21

12 Sep 21

10.00am – 2.50pm

12 Sep 21