Remember, Research, Reflect: Exploring Perspectives on War - 25 Aug 17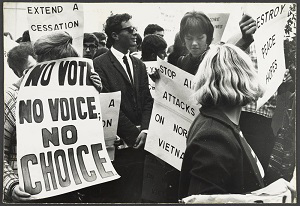 Image: Glenn, David. Anti Conscription Demonstrations through Melbourne Streets. (1966) from the collection of State Library Victoria.

A special event by the Shrine of Remembrance, State Library Victoria, the Melbourne Museum and the HTAV.

Date: Friday, 25 August 2017
Venues: Shrine of Remembrance, Melbourne Museum
Cost: $100 (includes morning tea and lunch)

Registrations close Friday, 18 August 2017.
Bursary Applications:
Bursaries are available for Victorian teachers from regional and outer metro schools, or any Victorian school with an Index of Community Socio-Educational Advantage (ICSEA) ranking below 1000.
Bursaries cover the cost of entry ($100), and provide $250 (metro) or $300 (outer metro) to contribute to travel and CRT costs.
Applications for bursaries close Friday, 18 August 2017.
To apply, complete an application by clicking here or contact Liz Suda on 8341 7325 or esuda@museum.vic.gov.au for more information.

Teachers are invited to a professional learning day that explores perspectives on the commemoration of war by comparing World War I with more recent conflicts involving Australian defence forces.

Join curators and educators from the Melbourne Museum, State Library Victoria and the Shrine of Remembrance to discover how you can help your students compare and contrast different aspects of Australia's involvement in war.

This professional learning experience includes visits to the Shrine of Remembrance and the Melbourne Museum. Throughout the day, teachers can choose to investigate a range of themes such as technology, roles for women, the home front, conscription and public debate. Teachers will view exhibitions commemorating conflict and peacekeeping, explore a wide range of useful resources, take part in hands-on research experiences and create a digital narrative about their questions and discoveries.

Teachers will gain practical skills ready to use in the classroom. This program is ideal for teachers conducting any type of historical inquiry in the classroom or covering areas specifically relating to Australian involvement in conflicts and peacekeeping. Don't miss out on this unique experience.

Please note: This event involves travel between the two venues. Sufficient time will be included to walk or take public transport when moving between venues.

Program
8.45 am – 9.30 am
Registration and morning tea on arrival at the Shrine of Remembrance.

9.30 am – 9.45 am
Introduction and presentations.

9.45 am – 10.15 am: Developing research questions inquiry
Teachers are guided through a simple process to generate robust questions suitable for inquiry.

10.15 am – 11.15 am
Galleries of Remembrance tour comparing and contrasting Australia's involvement in conflict over time. Collecting images, video, sound, facts for a video task.

11.15 am – 12 pm
Transit to the Melbourne Museum.

12 pm – 12.45 pm
Directing students to search online for useful resources.

12.45 pm – 1.15 pm
Lunch.

1.15 pm – 1.35 pm
Curator presentation about the Love and Sorrow exhibition, war and public debate.

1.35 pm – 2.15 pm
Love and Sorrow exhibition viewing. Collecting images, video, sound, facts for a video task.

2.15 pm – 3.15 pm
Using digital tools to share inquiry learnings.

3.15 pm – 3.30 pm
Plenary.

3.30 pm
Attendees are invited to visit the First Peoples exhibition at the Melbourne Museum after the plenary session (closes 5 pm).

The views expressed at HTAV events are not necessarily the views of HTAV.
| | |
| --- | --- |
| Event Location: | Shrine of Remembrance, Melbourne Museum |
| Registrations Open: | 9 Jun 17 9:00 AM |
| Registrations Close: | 18 Aug 17 5:00 PM |
| Places Available: | 22 |
24 Aug 17

4.00 pm–6.30 pm

24 Aug 17

25 Aug 17

9.00am - 4.00pm

25 Aug 17

10 Sep 17

10.00 am - 5.30 pm

10 Sep 17