New to Teaching History Levels 7-10 and the Victorian Curriculum 2022 - 10 Mar 22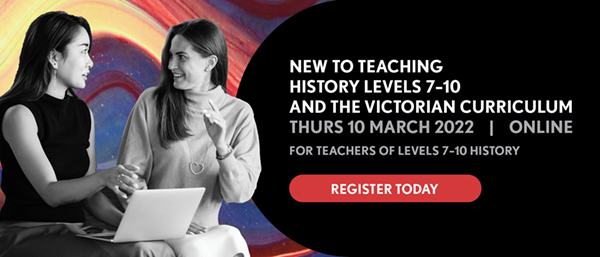 This event is aimed at pre-service teachers and teachers who are less experienced with Levels 7–10 History. Experienced teachers who feel they need more guidance with the curriculum, assessment ideas and resources may also find this event worthwhile.

Thursday 10 March 2022, 1.00 pm – 3.40 pm
Online via Zoom
Please note, this event will NOT be recorded

Registrations must close Monday 7 March 2022.
| | | |
| --- | --- | --- |
| Non HTAV Member | $150 | |
| HTAV Individual Member | $75 | 50% off the non-member rate |
| HTAV School Member | $98 | 35% off the non-member rate |
| HTAV Pre-service Teacher Member | $30 | 80% off the non-member rate |
* All prices include GST.

HTAV ABN: 44 005 739 239
---

Pre-Event Viewing

Please ensure you have viewed the two on-demand videos prepared by the VCAA before attending this event:
Program
12.50 pm – 1.00 pm
Attendees log in and get ready to enter the event.
1.00 pm – 1.05 pm
Welcome and Housekeeping
1.05 pm – 1.50 pm

Session 1:
Introducing the Victorian Curriculum: History 7–10
Gerry Martin, Curriculum Manager (History and Civics), Victorian Curriculum and Assessment Authority (VCAA)

In this session, Gerry will expand on the information gained through viewing the two on-demand videos and will respond to any questions that participants may have after viewing the videos. Gerry will provide an explanation of the structure of the Victorian Curriculum History, the importance of the Historical Concepts and Skills strand and approaches to assessment using the achievement standards. This session will also focus on addressing participants' own questions and will provide advice on approaches to implementing the curriculum as well as resources that teachers may find helpful.
1.50 pm – 2.00 pm
Afternoon break
2.00 pm – 3.00 pm
Session 2:

Teach, Learn, History, Repeat
Alexis Watson, Norwood Secondary College

The Victorian Curriculum 7-10 History offers a wide variety of engaging topics which aim to challenge and inspire our students. From early civilisations to conflicts, revolutions and human rights, the curriculum provides opportunities for students to explore, investigate, debate and question.

In this session, Alexis will cover:

mapping a level 7-10 History course that fulfills the requirements of the Victorian Curriculum
strategies for delivering a great deal of content, whilst still focusing on skill development
tips and tricks for the classroom to support your academically diverse learners.

By the end of the session, attendees will walk away with:

approaches to plan and deliver content in line with the Victorian Curriculum
strategies to differentiate content efficiently for a wide range of abilities
the confidence to teach skills across all levels of History so that students are properly prepared for the senior years, and
a wide range of resources to engage students in history.

3.00 pm – 3.40 pm

Session 3:
The 'Best Bits' of 7-10 History
Kara Taylor, James Ridley and Bronwyn Cook

Join us for an informal chat with experienced History teachers who will share their favourite things about teaching History at Levels 7-10. Find out how the HTAV community and colleagues can support your teaching and make some new connections along the way.
To get your discounted member rate, you must login at the top of this page
using your unique login details that are attached to an active 2022 HTAV membership.
Having trouble logging in? Please contact Michelle Pitcher at
membership@htav.asn.au
.

Please note: The views and advice presented at HTAV events are not necessarily the views of HTAV. Teachers should use their professional judgement to decide whether to implement or apply what they learn.
| | |
| --- | --- |
| Event Location: | Online |
| Registrations Open: | 16 Dec 21 9:00 AM |
| Registrations Close: | 10 Mar 22 12:00 PM |
24 Feb 22

9.00 am - 3.30 pm

24 Feb 22

25 Feb 22

10:00 am – 3:00 pm

25 Feb 22

10 Mar 22

1.00 pm–3.40 pm

10 Mar 22