New to Teaching History Levels 7-10 and the Victorian Curriculum 2021 - 17 Mar 21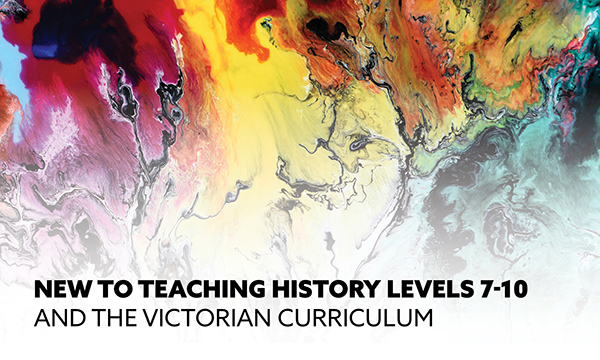 This event is aimed at pre-service teachers and teachers who are unfamiliar with Levels 7-10 History. Experienced teachers who feel they need more guidance with the curriculum, assessment ideas and resources may also find this event worthwhile.

Wednesday 17 March 2021, 1.00 pm – 4.00 pm
Online via Zoom
Please note, this event will NOT be recorded.

Registrations must close Thursday 11 March.
| | | |
| --- | --- | --- |
| Non HTAV Member | $140 | |
| HTAV Individual Member | $70 | 50% off the non-member rate |
| HTAV School Member | $90 | 35% off the non-member rate |
| HTAV Pre-service Teacher Member | $30 | 80% off the non-member rate |
* All prices include GST.

HTAV ABN: 44 005 739 239
---

Program
..

12.50 pm – 1.00 pm
Attendees log in and get ready to enter the event.

..

1.00 pm – 1.05 pm
Welcome and Housekeeping

..

1.05 pm – 1.50 pm
Session 1: Introducing the Victorian Curriculum: History 7-10
Gerry Martin, Curriculum Manager (History and Civics), Victorian Curriculum and Assessment Authority (VCAA)

This session will present an introduction to the Victorian Curriculum: History 7–10. Firstly, this session will provide an explanation of the structure of the Victorian Curriculum, some advice on developing a learning program and a discussion on the importance of the Historical Concepts and Skills strand. Secondly, this session will focus on assessing principles through an exploration of Achievement Standards, Indicative Progress and the development of assessment tasks. There will be time for Q&A during this session.

During the registration process you will be invited to submit ONE History Levels 7-10 curriculum related question you would like to ask Gerry Martin. We will forward the questions on to Gerry before the event and he will do his best to answer them for you on the day.

..

1.50 pm – 2.00 pm
Afternoon break

..

2.00 pm – 3.30 pm
Session 2:

Starting from Scratch – Teaching Year 7-10 History
Stephen White, Oxley Christian College

To teach Middle Years History in Victoria is truly a wonderful experience, but can seem overwhelming at first. The Victorian Curriculum for 7-10 History covers a wide range of wonderful and exciting topics, from the Ancient Romans, to Renaissance Explorers, to child labourers in the Industrial Revolution, to the struggle for equality in the Civil Rights Movements of the Twentieth Century – and much, much more. This session will cover the following aspects of teaching Middle Years History:

An overview of the structure of the Victorian Curriculum for History, including key knowledge and skills.
Strategies and ideas for the classroom.
Ideas for developing an assessment program.

At the end of each mini-session there will be an opportunity for questions and discussion. Hopefully by the end of the session you will have gained an understanding of how to structure your own courses, picked up some helpful strategies and resources for teaching, and started getting ideas on how to best assess your students.

3.30 pm – 4.00 pm
Session 3: The 'Best Bits' of 7-10 History

Join us for an informal chat and hear from a range of experienced History teachers who share their favourite things about teaching History at Levels 7-10. Find out how the HTAV community and colleagues can support your teaching and make some new connections along the way.
| | |
| --- | --- |
| Event Location: | Online |
| Registrations Open: | 28 Jan 21 9:00 AM |
| Registrations Close: | 11 Mar 21 11:55 PM |
17 Mar 21

1.00 pm–4.00 pm

17 Mar 21

12 Apr 21

'2020 Hindsight'

12 Apr 21

3 May 21