New to Teaching History Levels 7-10 - 9 Mar 23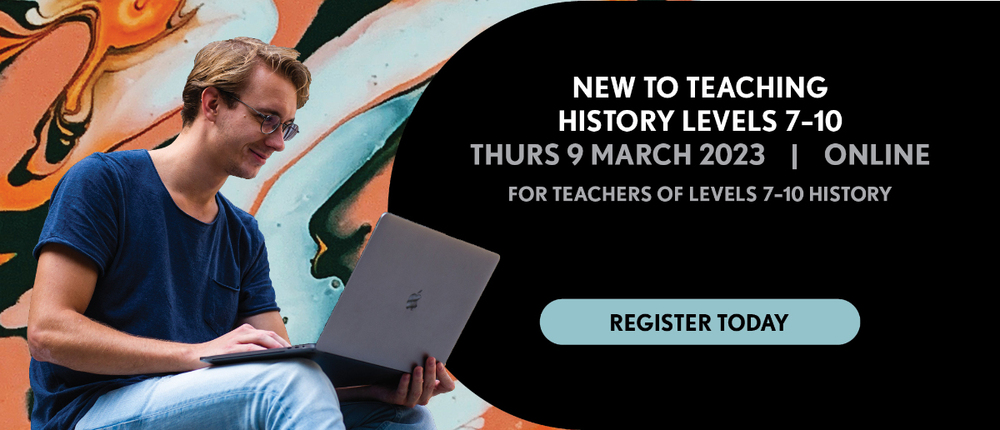 This event is aimed at pre-service teachers and teachers who are less experienced with Levels 7–10 History. Experienced teachers who feel they need more guidance with the curriculum, assessment ideas and resources may also find this event worthwhile.

Thursday 9 March 2023, 1.00 pm – 3.45 pm
Online via Zoom
Please note, this event will NOT be recorded

Registrations close Monday 6 March 2023.
| | | |
| --- | --- | --- |
| Non HTAV Member | $150 | |
| HTAV Individual Member | $75 | 50% off the non-member rate |
| HTAV School Member | $98 | 35% off the non-member rate |
| HTAV Pre-service Teacher Member | $30 | 80% off the non-member rate |
* All prices include GST.

HTAV ABN: 44 005 739 239
---
Program
12.50 pm – 1.00 pm
Attendees log in and get ready to enter the event.
1.00 pm – 1.05 pm
Welcome and Housekeeping
1.05 pm – 1.50 pm

Session 1:
Introducing the Victorian Curriculum: History 7–10
Michael Spurr, Acting Curriculum Manager (History), Victorian Curriculum and Assessment Authority (VCAA)

Michael will provide an overview of the Victorian Curriculum: History 7–10. Beginning with an outline of the curriculum structures, Michael will explain the relationship between the Historical Concepts and Skills, Historical Knowledge and the Achievement Standards as well as approaches to the development of assessment tasks. Michael will share a range of resources developed by the VCAA to support teachers of History. Please bring questions for the Q&A during this session.

1.50 pm – 2.00 pm
Afternoon break
2.00 pm – 3.00 pm
Session 2:

Teaching 7 – 10 History: The Essentials
James Sach, Goulburn Valley Grammar School

This session provides an overview of the 'essentials' of teaching middle school History. These include a focus on curriculum planning and sequencing, historical thinking skills, pedagogy and assessment. This session will provide attendees with a range of usable ideas across Years 7 – 10.

James Sach is a Learning Leader at Goulburn Valley Grammar School (GVGS). Over the past two years, James has partnered with the University of Queensland's Science of Learning Research Centre to investigate student knowledge and use of effective learning strategies, as informed by cognitive psychology, in his school. James is also involved in making educational research relevant and accessible to colleagues at GVGS.

3.05 pm – 3.45 pm

Session 3:
The 'Best Bits' of Teaching 7 – 10 History
Ashley Keith Pratt, Melbourne Girls Grammar; Kara Taylor, Irymple Secondary College; Mitchell Pawsey, Dandenong High School

Join us for an informal chat with experienced History teachers who will share their favourite things about teaching History at Levels 7 – 10. Find out how the HTAV community and colleagues can support your teaching and make some new connections along the way.
To get your discounted member rate, you must login at the top of this page
using your unique login details that are attached to an active HTAV membership.
Having trouble logging in? Please contact Michelle Pitcher at
membership@htav.asn.au
.

Please note: The views and advice presented at HTAV events are not necessarily the views of HTAV. Teachers should use their professional judgement to decide whether to implement or apply what they learn.
| | |
| --- | --- |
| Event Location: | Online |
| Registrations Open: | 2 Dec 22 9:00 AM |
| Registrations Close: | 6 Mar 23 11:55 PM |
23 Feb 23

10:00 am – 3:00 pm

23 Feb 23

9 Mar 23

30 Mar 23

9.00 am - 3.30 pm

30 Mar 23