History Teaching Masterclass – Every Student Can Succeed at History! - 6 May 21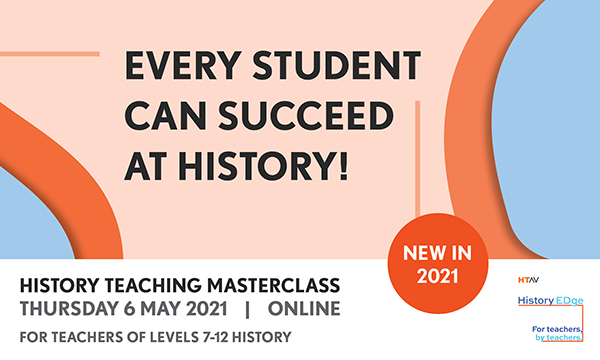 Any student who enjoys history can experience some success in it. That is the premise of this masterclass which will provide teachers with strategies to 'lift' their students in the History classroom. Covering source analysis, critical thinking, literacy, writing and vocabulary development and more, teachers will discover how to differentiate and scaffold for the students who struggle.

HTAV's masterclass series brings you practicing teachers and other experts sharing the things they really know about and/or have tested successfully in their setting.

Thursday 6 May 2021, 2.00pm–4.00pm
Online via Zoom

This event will be recorded and registered attendees will be able to access the video for a limited time.

Registrations close Monday 3 May 2021
| | | |
| --- | --- | --- |
| Non HTAV Member | $140 | |
| HTAV Individual Member | $70 | 50% off the non-member rate |
| HTAV School Member | $90 | 35% off the non-member rate |
| HTAV Pre-service Teacher Member | $30 | 80% off the non-member rate |
* All prices include GST.

HTAV ABN: 44 005 739 239
---

Program
1.50 pm – 2.00 pm
Attendees log in and get ready to enter the event.
2.00 pm – 2.05 pm
Welcome and Housekeeping
2.05 pm – 2.50 pm
Session 1: Building Source Analysis Skills in 21st Century Learners
Maddi Schmidt, St Francis Xavier College

Focusing on differentiated learning activities, this session will look at strategies for unpacking sources, ideas for scaffolding student responses and approaches for fostering student independence in thinking critically.
2.50 pm – 3.00 pm
Afternoon break
3.00 pm – 3.45 pm
Session 2: Jumping on Board the History Train
Alexis Watson, Norwood Secondary College

History can be quite challenging for students who find it difficult to access the content, but as teachers we need to create a positive environment where our students can achieve some success. In this session, Alexis will provide attendees with strategies to support students who struggle with literacy, focusing specifically on writing and vocabulary development. Alexis will also provide some tips to engage some of the more reluctant learners in the History classroom.
| | |
| --- | --- |
| Event Location: | Online |
| Registrations Open: | 8 Apr 21 9:00 AM |
| Registrations Close: | 3 May 21 11:55 PM |
29 Apr 21

5.00 PM–6.30 PM

29 Apr 21

3 May 21

6 May 21