History Teaching Masterclass - Every Student Can Write Historically! - 24 Aug 21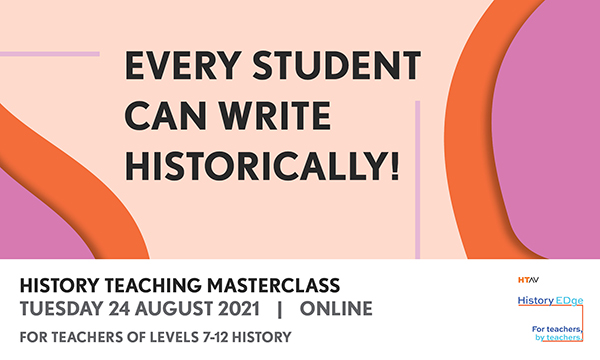 Students can find it difficult to transfer their historical thinking and knowledge into well-formulated written work. That is the premise of this masterclass which will provide teachers with strategies to help improve their students' historical writing skills.
HTAV's Masterclass series brings you practising teachers and other experts sharing the things they really know about and/or have tested successfully in their setting.

Tuesday 24 August 2021, 2.00pm–4.00pm
Online via Zoom

This event will be recorded and registered attendees will be able to access the video for a limited time.

Registrations close: Friday 20 August 2021
| | | |
| --- | --- | --- |
| Non HTAV Member | $140 | |
| HTAV Individual Member | $70 | 50% off the non-member rate |
| HTAV School Member | $90 | 35% off the non-member rate |
| HTAV Pre-service Teacher Member | $30 | 80% off the non-member rate |
* All prices include GST.

HTAV ABN: 44 005 739 239
---

Program
1.50 pm – 2.00 pm
Attendees log in and get ready to enter the event.
2.00 pm – 2.05 pm
Welcome
2.05 pm – 2.50 pm
Session 1:
Bronwyn Cook, Dandenong High School

One of the more difficult tasks facing History teachers is supporting students to get to the next level in their History writing. In this session, Bronwyn will present practical strategies designed to help students of all literacy levels. This session will focus on both developing students' engagement in History, and their ability to communicate their ideas. This session is designed to support teachers at different stages of their career, and teachers who are teaching out of their method. The tips will be applicable in History classes at all year levels.
2.50 pm – 3.00 pm
Afternoon break
3.00 pm – 3.45 pm
Session 2:
Stephen White, Oxley Christian College

How often do you hear students say, 'I'm just not a very good writer'? This is a mindset that can discourage students in the Middle Years and maybe prevent them from pursuing VCE History, even if it is a passion. However, with dedication and a strategic approach, History teachers can help most students in their classes become effective writers. In this session, we discuss strategies and tips that you can use with your students to build their historical writing skills, develop their technique and improve their confidence in History.
| | |
| --- | --- |
| Event Location: | Online |
| Registrations Open: | 20 Jul 21 9:00 AM |
| Registrations Close: | 20 Aug 21 11:55 PM |
24 Aug 21

2.00 pm–4.00 pm

24 Aug 21

12 Sep 21

10.00am – 2.50pm

12 Sep 21

12 Sep 21

10.00am – 1.30pm

12 Sep 21