Program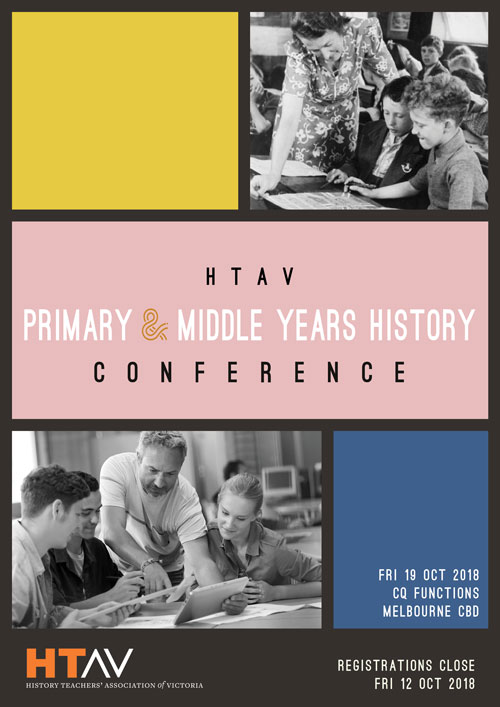 When: Friday 19 October 2018
Where: CQ Functions, 113 Queen St, Melbourne


The HTAV Primary and Middle Years History Conference features an impressive range of ideas, strategies and options for the busy History teacher.

All historical understanding in the community starts with you. Join other teachers from across Victoria who are also igniting the 'History' spark in students and learn from great presenters who want to stoke the fire.

Registrations close: Friday 12 October 2018. Click here to register.


Confirmation emails with session allocations and full event details will be issued during the week beginning Monday 15 October 2018.

The full program will be available for download soon.
TIME
SESSION
9.00am –
9.45am
REGISTRATION
9.45am –
10.00am
OPENING ADDRESS AND HOUSEKEEPING

10.00am – 10.10am

Immersive History – School History Tours
(HTAV Major Sponsor Latitude Group Travel)
10.15am –
11.05am
SESSION 1: Please choose one workshop from this session
1.1
Creating Interdisciplinary Units guided by Historical
Literacy
Maree Whiteley, Education Consultant: Future focused
Teaching and Learning, Association of Independent
Schools WA (AISWA)



PRIMARY

1.2
Make History Class the BEST!
Stephen White, Oxley Christian College



MIDDLE YEARS, BYOD

1.3
How Can We Best Personalise
Learning for Our Students?
Bev Steer, Carey Baptist Grammar



PRIMARY, MIDDLE YEARS, BYOD

1.4
Developing Relevant Student Discussion
Marcus Parker, St. Joseph's College



MIDDLE YEARS

1.5
Who's Asking the Questions?
Dr Geraldine Ditchburn, Education Consultant



PRIMARY, MIDDLE YEARS

1.6
Against the Odds: The Victory Over Conscription in
World War One
Martin Bush, The University of Melbourne, Dr Jo Clyne, History Teachers' Association of Victoria and Madeleine Martiniello, Filmmaker



MIDDLE YEARS, 9-10

1.7
Where the Digital Meets the Visceral
Bridget Hanna and Jan Molloy, Museums Victoria



PRIMARY, MIDDLE YEARS

11.10am –
11.35am
MORNING TEA in the exhibition area
11.40am –
12.30pm

SESSION 2:

Please choose one workshop from this session

2.1
Gems, Jewels and Bling: a 'Gold Rush' of
Resources
Maree Whiteley, Education Consultant: Future focused Teaching and Learning, Association of Independent Schools WA (AISWA)



PRIMARY

2.2
Unlocking the Potential of ICT in Your
Classroom
Rachel Crellin, Department of Education
and Training



PRIMARY, MIDDLE YEARS, BYOD

2.3
Memorials, Medals and Memories
Elizabeth Allen, Department of Veterans' Affairs



PRIMARY

2.4
Carrum Chronicles
Marcus Mulcahy, Carrum Primary School



PRIMARY, MIDDLE YEARS

2.5
SBS History Cold Case
Andree Buchanan, Luther College

MIDDLE YEARS, 7-8
2.6
Teaching History in a Multicultural Primary School
Classroom
Claire Deery, The University of Melbourne



PRIMARY

2.7
Dialogue for Change: The Mandela Legacy
Dr Liz Suda, Museums Victoria



MIDDLE YEARS, 9-10

12.35pm –
1.25pm
SESSION 3: Please choose one workshop from this session
3.1
Using Empathy to Teach History
Nick Adeney, St Michael's Grammar School



PRIMARY

3.2
Giving the Storyteller a Digital Dimension
Robin McKean, Computer Science Education Research team, University of Adelaide



PRIMARY, MIDDLE YEARS, BYOD

3.3
Convicts, Colonists and Coins – History Learning
through Performance and Project Based Learning
Roxanne Levett, Moreland Primary School



PRIMARY, MIDDLE YEARS

3.4
Their Stories, Their Words, Our History
Elizabeth Allen, Department of Veterans' Affairs



MIDDLE YEARS, 9-10

3.5
A Visible Exploration of Medieval Europe
Christian Machar and Frances Walker, Brighton Grammar



MIDDLE YEARS, 7-8

3.6
First Australians: The 'Indigenous' Priority
Dr Rosalie Triolo, Monash University



MIDDLE YEARS, 9-10

3.7
Stories of Survival from South Sudanese
Refugee Children Living in Australia
Dr Jo Clyne, History Teachers' Association of Victoria,
Anna Dollard, Kids' Own Publishing and Dr Mary Tomsic, The University of Melbourne



PRIMARY, MIDDLE YEARS

1.25pm –
2.05pm
NETWORKING LUNCH in the exhibition area
2.10pm –
2.20pm
LATITUDE GROUP TRAVEL MAJOR PRIZE AND EXHIBITOR PASSPORT PRIZE DRAWS
2.25pm –
2.40pm
PRESENTATION: HTAV AWARDS FOR EXCELLENCE IN HISTORY TEACHING
2.40pm –
3.00pm
VCAA ADVISORY SESSION: Using the Victorian Curriculum History to Develop a Targeted Learning Program


Gerry Martin, Curriculum Manager History and Civics, Victorian Curriculum and Assessment Authority

3.05pm –
4.00pm
SESSION 4: Please choose one workshop from this session
4.1
Presenting Aboriginal Perspectives in History
Alan Harris, Cultural Infusion



MIDDLE YEARS, 7-10

4.2
Promoting Historical Thinking about Taxation and
Welfare Policy During the World Wars
Dr Tracey McAskill, Education Consultant and Reeta Sidhu, Australian Taxation Office



MIDDLE YEARS, 9-10

4.3
Making Collaborative Problem-Solving Games
Ben Lawless, Aitken College



PRIMARY, MIDDLE YEARS

4.4
Amazing Ancient Civilisations
Sarah Cody and Eleanor Haring, Catherine McAuley College



MIDDLE YEARS, 7-8

4.5
Teaching History with ACTF Resources
Janine Kelly, Australian Children's Television Foundation (ACTF)



PRIMARY, MIDDLE YEARS

4.6
Breaking the Boundaries of Inquiry
Dr Brad McLennan and Dr Karen Peel, University of Southern Queensland



PRIMARY, MIDDLE YEARS

4.7
Old Monuments, New Australians
Grace Terdich, East Preston Islamic College



MIDDLE YEARS, 9-10

4.00pm –
5.30pm

NETWORKING DRINKS FOR CONFERENCE PARTICIPANTS




Blue Diamond Bar, CQ Functions, Level 15

4.30pm –
6.00pm
SPECIAL EVENT:
PRESENTATION OF THE NATIONAL HISTORY CHALLENGE VICTORIAN AWARDS
CQ Functions, Plenary Room
19 Oct 18

9.00am - 4.00pm

19 Oct 18