2019 HTAV Annual General Meeting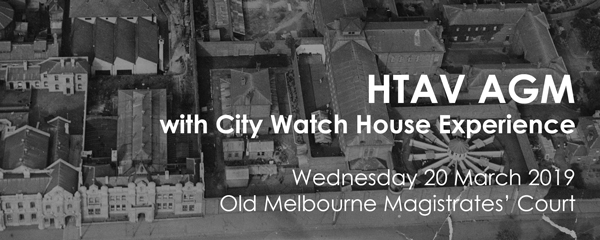 2019 HTAV Annual General Meeting

When: Wednesday 20 March 2019, 5.30 pm–6.30 pm (Please join us from 5.00 pm for refreshments)
Where: Old Melbourne Magistrates' Court
Price: Free (registration is essential)

HTAV warmly invites you to attend the Annual General Meeting (AGM) where you can participate in shaping your Association, meet the new HTAV Board members and network with fellow members. Plus, as part of its ongoing support for History teachers, the National Trust will treat all attendees to a free City Watch House Experience.

You must register to attend this event as places are limited. Click here for more information and to register.
Registrations close Friday 15 March 2019.
---
About the AGM
The business of teh AGM will be completed as efficiently as possible, so we can all enjoy the fun member-event afterwards.

Please click on the relevant documents below:

At the meeting, members will have the opportunity to:
learn more about HTAV's operations and finances
ask questions about the operations and finances of HTAV
speak about any items on the agenda
vote on any resolutions proposed.

At the meeting, members will be asked to vote to:
accept the minutes of the last AGM
accept the Annual Report
accept the auditor's report
accept the annual financial statements
endorse the appointment of the auditor for the 2019 financial year
endorse the appointment of newly elected directors (i.e. Board members).

Proxy votes
If you cannot attend the AGM but wish to exercise a Proxy vote, please complete the Proxy form below. Please remember the elections will have been held prior to the meeting, and so voting at this meeting is only to endorse the election outcomes.
Please note that the person listed as the 'primary contact' for an Institutional Membership will be considered the sole voting representative for their school or organisation. If the school or organisation wishes to appoint a different voting representative instead, the Principal or CEO should complete the Proxy form below and return it to HTAV by the deadline. A 'primary contact' cannot appoint a proxy to vote on their behalf.

Proxy forms must be received by HTAV no later than 48 hours prior to the AGM, being 5.00pm Monday 18 March 2019.
29 Mar 19

9.30am – 3.35pm

29 Mar 19

8 Sep 19

10.00 am - 5.30 pm

8 Sep 19