NOTE: Whilst every effort is made to process orders promptly, allow 7 working days for goods to be dispatched.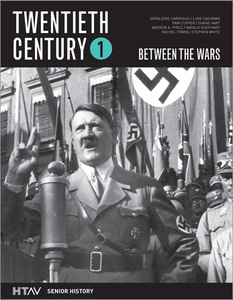 Twentieth Century 1: Between the Wars
Publisher: HTAV Publishing
Length: 288pp
Item number: 1665
ISBN: 9781875585021
AU $50.00

(incl GST)
Available
This brand new, full-colour student textbook includes the following features:
> Full-colour design
> Engaging narrative
> Links to supplementary web resources
> Maps
> Summary diagrams
> Timelines
> Primary sources
> Historical interpretations
> 'Skills Focus' tasks
> Varied activities, including Source Analysis, Exam Practice and Extension
> Trivia
> Glossary
> Index
CONTENTS:
SECTION A: Ideology and Conflict
Snapshot: The World Before 1914
Snapshot: World War I
Chapter 1: Making the Peace
Snapshot: Ideologies and 'isms'
Snapshot: The Great Depression
Chapter 2: The Russian Revolution
Chapter 3: The Rise of Nazism in Germany
Chapter 4: Descent into Chaos: the Origins of WWII
SECTION B: Social and Cultural Change
Chapter 5: Social and Cultural Change - Weimar to Nazi Germany
Chapter 6: Social and Cultural Change - from Lenin's NEP to Stalin's Collectivisation
Chapter 7: Social and Cultural Change - Roaring Twenties to Dreadful Depression in America
This is a print book. eBooks will be available through select booksellers.