NOTE: Whilst every effort is made to process orders promptly, allow 7 working days for goods to be dispatched.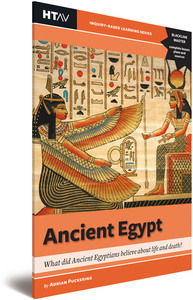 Ancient Egypt (Inquiry-Based Learning Series)
Publisher: HTAV
Length: 42pp plus CD
Item number: 1043
ISBN: 978 1 875585 92 2
AU $55.00

(incl GST)
Whatdid Ancient Egyptians believe about life and death?
A complete blackline master unit of work for teachers.
This unit examines life and death in Ancient Egypt. It uses a range of primary and secondary sources to address the following inquiry questions:
What was the meaning of life and death in Ancient Egypt?
How were dead bodies treated?
What have uncovered tombs revealed?
Who ran ancient Egypt?
Were ancient Egyptians treated better in death than in life?
FEATURES
Primary source documents and images
Historical context
Learning objectives and outcomes
Stimulating inquiry questions
Step-by-step lessons that can be followed or adapted
Activities for a range of learning styles
Assessment tasks
CD of sources for easy printing
Click HERE to see a sample.