History Teachers' Regional Summit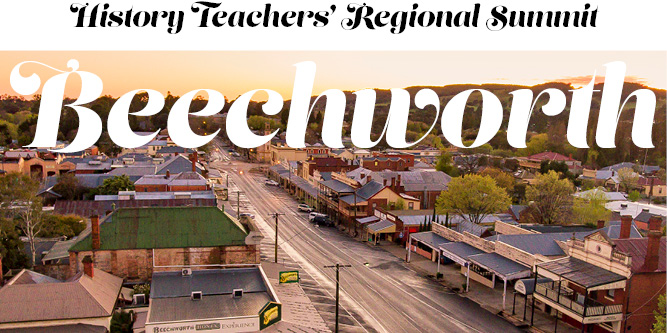 We know it isn't always easy for regional teachers to attend professional learning events. That's why HTAV introduced the Regional Summit, bringing highlights of recent HTAV conferences out to regional areas.

HTAV is delighted to partner with Indigo Shire Council to offer the 2024 Regional Summit in Beechworth! Immerse yourselves in the beauty and history that Beechworth has to offer.
We can also do our little bit to support tourism and businesses in Victoria's regional areas.
The History Teachers' Regional Summit: Beechworth runs from Friday 26 to Sunday 28 April 2024.
DAY 1:
Friday 26 April
Free Professional Learning Workshop for Practising History Teachers
Beechworth Secondary College
85 Balaclava Road, Beechworth VIC 3747
Register here.
DAYS 2 & 3:
Saturday 27 April
Conference Day
10.00am – 3.45pm (Registration from 9.30am)
Beechworth Memorial Hall, 101 Ford St, Beechworth VIC 3747

Sunday 28 April
Historical Site Tours
Optional breakfast 8.30am at Moments & Memories Tea Room (at own expense)
Free tours begin from 10.00am, with five different tour and venue options
Register here.

Registrations close Thursday 18 April 2024
There is limited capacity at the Summit venue, so please book early.
Program Flyer (coming soon)

16 Nov 23

17 Nov 23

23 Feb 24

9.00am - 5.30pm

23 Feb 24